Concert held to commemorate DPP's Chai Trong-rong
A memorial concert was held yesterday in Taipei to pay tribute to late independence movement pioneer and former Democratic Progressive Party (DPP) lawmaker Chai Trong-rong (蔡同榮) in honor of his dedication to the pursuit of freedom, democracy and independence in Taiwan.
Chai died of multiple organ failure on Jan. 11 at the age of 78. He had been hospitalized after a brain stem hemorrhage left him in a coma on Dec. 18 last year.
Chai's friends performed alongside musicians at the Metropolitan Hall, with songs that included some of the lawmaker's favorites from his 30 years abroad, such as Homeland at Dusk (黃昏的故鄉) and I'm Coming Home (回鄉的我).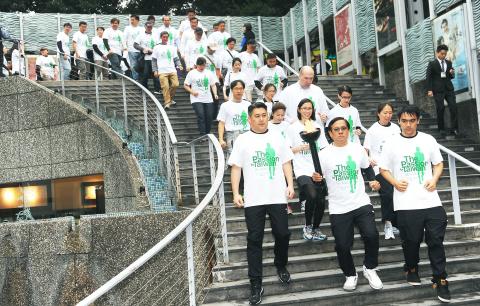 Friends and supporters of Taiwan independence movement pioneer Chai Trong-rong, who died last month, jog into the Metropolitan Hall in Taipei yesterday to attend a memorial concert for the former Democratic Progressive Party legislator. Chai was also known for his love of exercise.
Photo: Chang Chia-ming, Taipei Times
Chai left Taiwan in 1960 for the US to go to graduate school. His pro-Taiwan independence activities while in the US resulted in the former Chinese Nationalist Party (KMT) regime barring him from returning home. It blacklisted him for three decades before he was able to return for a funeral in June 1990.
DPP Chairman Su Tseng-chang (蘇貞昌), former DPP chairperson Tsai Ing-wen (蔡英文) and former vice president Annette Lu (呂秀蓮) were among the senior party members who praised Chai's lifelong pursuit of democracy in Taiwan and international recognition for the nation, especially his lobbying efforts in the US Congress.
"He will be greatly missed. And we will do our best to achieve his unfulfilled dream," Su said.
"We are here today to look back on his achievement. Dr Chai will be remembered as one who has always done everything he could for his dream, for his perseverance and for his 'never-say-die' mentality," Tsai said.
Chai lived in the US while in exile, founding the World United Formosans for Independence in 1970, which brought together pro-Taiwan independence groups in Japan, Europe, Canada and the US, and the Formosan Association for Public Affairs in Los Angeles in 1982. He also focused on lobbying the US Congress on behalf of Taiwan's independence movement.
Chai served six terms in the legislature from 1993 to 2012 and helped push for legislation on the Referendum Act (公民投票法).
Additional reporting by staff writer
Comments will be moderated. Keep comments relevant to the article. Remarks containing abusive and obscene language, personal attacks of any kind or promotion will be removed and the user banned. Final decision will be at the discretion of the Taipei Times.