FEATURE: Lawmakers cross political divide to promote vegetarian fare for holidays
With health and fitness in mind, two legislators are advocating more vegetarian repasts for traditional Lunar New Year family get-togethers instead of the traditional multi-course banquets.
Democratic Progressive Party (DPP) Legislator Chiu Yi-ying (邱議瑩) said she made major changes in her diet after being diagnosed with ovarian cancer in 2012, and began to pay more attention to what she eats.
She said she no longer eats red meat and has forsworn the occasional junk food meal.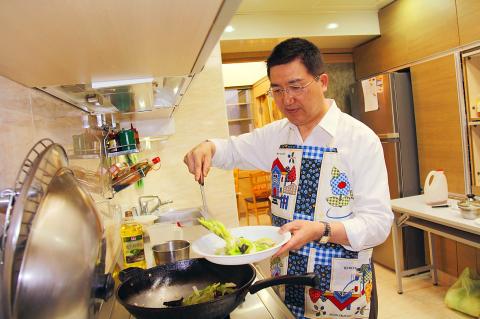 Chinese Nationalist Party (KMT) Legislator Lin Hung-chih cooks a dish for a vegetarian Lunar New Year's dinner on Wednesday.
Photo courtesy of Lin Hung-chih
Having to battle cancer forced a total readjustment of her lifestyle, she said.
"Taiwanese customs call for eating big, sumptuous dinners during the Lunar New Year holiday, but in preparing the holiday get-together dinner these days, I insist on having more vegetables, and have eliminated processed food of any kind. I cook more fish and less with red or white meat," she said.
As she recuperated from her chemotherapy treatments, Chiu said she used the time to learn to make stewed soups.
"Taiwan produces many fruits in all seasons, so I use fruit as base for soups, such as jujubes in winter, apples and Oriental pears in spring, summer and autumn. They are very suitable for making soup," Chiu said.
"After cooking at high temperature, the fruits will release a sweet aroma. The soups are tasty, and can be consumed without adding any salt. Now I cook soups at least once a week, such as apple with lean meat soup, healthy chicken soup and mixed vegetable soup," she said, adding that her husband, Greater Kaohsiung Deputy Mayor Lee Yung-te (李永得), really enjoys the soups.
Chiu made a big pot of fruit-based soup for her family's Lunar New Year's Eve dinner so the whole family could have a healthy meal, she said.
Chinese Nationalist Party (KMT) Legislator Lin Hung-chi (林鴻池) has been a vegetarian for nearly 20 years.
"Since I began to eat a vegetarian diet, complemented with mixed mushroom dishes, a long-time problem with gastro-intestinal hemorrhaging has gone away," he said.
Lin published a cookbook, Easy Art of Vegetarian Diet, showing how to prepare 20 courses.
One of his specialties is "mushroom in oyster sauce," which uses "monkey head" mushrooms, ginger slices and water lily stir fried in oyster sauce, sesame oil and broth.
Lin said a Taiwanese all-vegetarian fotiaoqiang (佛跳牆, "Buddha jumps over the wall") stew-soup is a good choice for the Lunar New Year holidays.
"You need soy bean sprouts, ginseng fibers, jujubes, bamboo fungus, Chinese cabbage, cubes of taro, chestnuts, assorted mushrooms and other vegetarian ingredients for this dish. Put them into the pot and stew for about one hour. It is an excellent dish for a family get-together. It is healthy and can be enjoyed by everyone," he said.
Many people have to socialize at night for their jobs, which means eating big, multi-course dinners, which are usually filled with a lot of meat, fish and other high-protein dishes, he said.
"I encourage the public to have a vegetarian meal at least once a week," Lin said.
Comments will be moderated. Keep comments relevant to the article. Remarks containing abusive and obscene language, personal attacks of any kind or promotion will be removed and the user banned. Final decision will be at the discretion of the Taipei Times.