US site lists the nation's 'dream' subway stations
TRANSFORMATION: Two of Kaohsiung's stations have turned a 'mundane commute into a journey through ... the most beautiful architecture,' the New York site said
The Formosa Boulevard Station (美麗島站) and Central Park Station (中央公園站) of Greater Kaohsiung's Rapid Transit (KRT) System have been selected as one of the few elegant subway stations "that New Yorkers could only dream of" by US news site PolicyMic.
The New York-based online news media site chose eight stations around the world earlier this month to showcase how elegantly designed subway stations "have transformed a mundane commute into a journey through some of the world's most beautiful architecture."
PolicyMic selected as No. 2 on its list the art installation at the Formosa Boulevard Station, Dome of Light. The glasswork is the largest in the world within a subway station and gives the station "an otherworldly feel."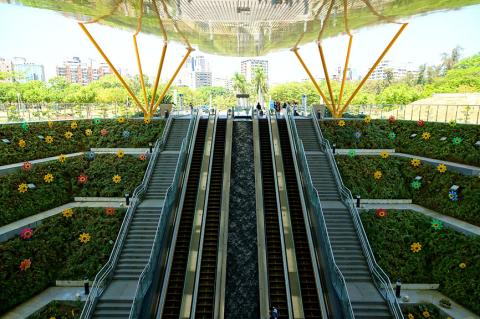 Exit No. 1 at Central Park Station on Greater Kaohsiung's Rapid Transit System is pictured yesterday.
Photo: Ke Yu-hao, Taipei Times
PolicyMic also introduced the station as a popular wedding venue.
"Imagine getting married in the Penn Station [in New York City]," the site added.
Rather than featuring large installation art, the Central Park Station — which was ranked No. 5 — resembles a giant indoor park, the US site said, adding that the station features windmill-shaped flowers and a large grass-like area.
"It provides a green oasis in the populated city and is among the most original stations in the world," it said.
This was not the first time that the Formosa Boulevard Station has been recognized as a major tourist drawcard in Taiwan.
The Dome of Light was listed earlier this month by CNN as one of the 10 reasons to love Greater Kaohsiung, apart from its night markets and several of the county's other destinations.
The Kaohsiung Rapid Transit Corp said in a statement that the design of the Formosa Boulevard Station was meant to reflect two important elements of Greater Kaohisung: its history and the ocean, adding that the station had originally been intended as a new city landmark.
According to the metro system operator, the train station's above-ground entrance, which resembles a pair of the clasped hands, was designed using the theme of prayer.
The Dome of Light, designed by American-Italian artist Narcissus Quagliata, was a masterpiece combining glass, colors and light, the company said.
"We hope that the residents of Greater Kaohsiung can experience and appreciate the beautiful atmosphere that we have created for them while they walk under the dome," the company added.
PolicyMic's international list for elegant subway stations includes Komsomolskaya Station in Moscow, Kirovsky Zavod Station in Saint Petersburg, T-Centralen Station in Stockholm, Champ-De-Mars station in Montreal and City Hall Station in New York.
Comments will be moderated. Keep comments relevant to the article. Remarks containing abusive and obscene language, personal attacks of any kind or promotion will be removed and the user banned. Final decision will be at the discretion of the Taipei Times.