Woman stuffs pet in plastic bottle
A woman has been reported to the authorities for animal abuse after she was found to have inserted her cat into a plastic bottle as punishment, a local official said yesterday.
The woman, surnamed Lin (林), who attends a university in Greater Taichung, was heavily criticized by Facebook users after she posted two photos of a white cat in a plastic bottle on Monday and wrote "cat in a bottle, punishment for behaving badly."
She later deleted the post.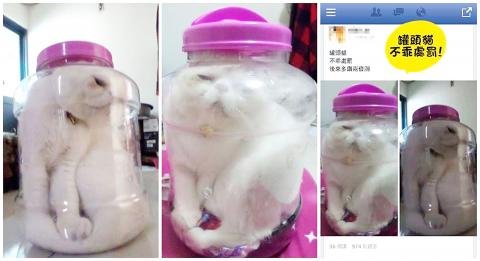 Photos posted on Facebook by 'Kiki' Lin, a student in Greater Taichung, on Monday show a cat stuffed into a plastic jar. The city's Animal Protection and Health Inspection Office has asked prosecutors to look into the case.
Photo: CNA
"I did not want to put my pet cats inside metal cages. Instead I put them inside plastic containers, so that they can be carried around with me. This way the cats can see the world through the transparent plastic," she wrote, admitting what she did was wrong.
However, the incident caught the attention of the city government's Animal Protection and Health Inspection Office, which reported the case to prosecutors for criminal investigation.
Office head Yu Chien-chung (余建中) said yesterday that the student had violated the Animal Protection Act (動物保護法).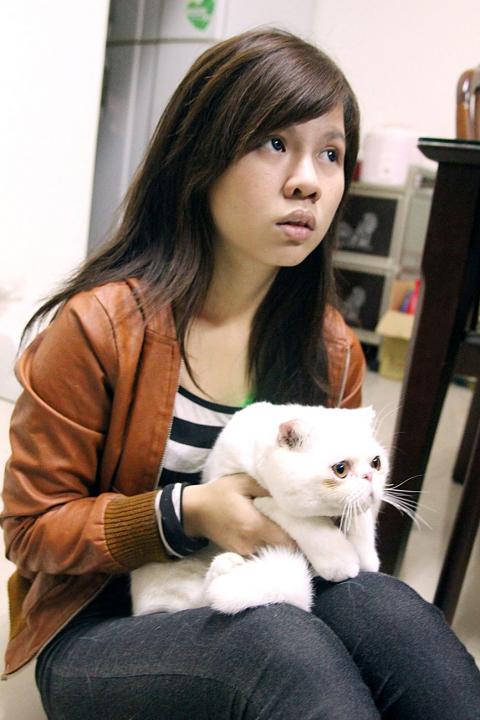 Kiki Lin yesterday holds the cat that she photographed stuffed into a plastic jar.
Photo: CNA
If the court finds her guilty, Lin could be punished with a maximum sentence of one year, or a maximum fine of NT$ 30,000 (US$ 1,000) if the sentence is commuted.
Later yesterday, Lin said she did not abuse her cats, saying she loves them very much.
She added that they sleep with her, have their own set of pillows and blankets, and that she named one of them using her own nickname, "Kiki."
She refused to apologize, adding she was kidding when she wrote "punishment" on Facebook.
Lin said the plastic containers were punched with air holes, and that she was simply trying them out as a way for her to transport her cats when traveling.
She did not try it again after realizing the method did not work well, she added.
Additional reporting by CNA
Comments will be moderated. Keep comments relevant to the article. Remarks containing abusive and obscene language, personal attacks of any kind or promotion will be removed and the user banned. Final decision will be at the discretion of the Taipei Times.