Paiwan man wins rifle battle in court
CUSTOMARY PRACTICE: The Supreme Court yesterday ruled that Aboriginal people may own home-made firearms, in accordance with the Indigenous Basic Act
A controversial court case involving an Aboriginal man convicted of illegally possessing three home-made firearms came to a head yesterday when the Supreme Court overturned the guilty verdict on appeal, citing the exemption of Aboriginal people in the nation's firearm laws.
The case centered on Tsai Chung-cheng (蔡忠誠), an Aboriginal man from the Paiwan community of Pingtung County's Mudan Township (牡丹), who was found in possession of three home-made rifles in a machinery workshop in the township's Shihmen Village (石門) in June 2008.
According to the original police report, Tsai made the rifles for hunting purposes. He manufactured them in the workshop using an electric welder and grinding machines, along with other metal-working equipment.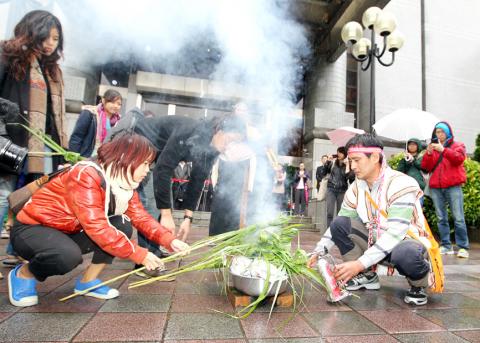 Aboriginal people and supporters make smoke signals in front of the Supreme Court in Taipei yesterday to inform ancestral spirits about Paiwan man Tsai Chung-cheng's successful appeal against a conviction on firearms charges.
Photo: CNA
Tsai was charged by the Pingtung District Prosecutors' Office with violating laws on the control of firearms. He was convicted in his first court appearance of illegal possession of firearms and bullets, and violating the Wildlife Protection Act (野生動物保育法). He received fines totaling NT$100,000 (US$3,377) and a three-year jail term, which was suspended for three years.
The judges at the time cited an item under Article 20 of the Act Governing the Control of Guns, Ammunition and Knives (槍砲彈藥刀械管制條例), which outlined some specific circumstances in which people of Aboriginal descent are exempted from various restrictions on firearms.
Tsai appealed the original decision in the High Court. He was again found guilty and was sentenced to a prison term of two years and eight months, and a fine of NT$100,000.
The court gave the interpretation that exemption for people of Aboriginal descent from certain articles of the gun control act only dealt with muzzle-loading rifles (前膛槍) — "older traditional firearms" requiring loading with gunpowder before they can be fired — whereas Tsai was making breech-loading rifles (後膛槍), which shoot bullets and other projectiles.
In yesterday's ruling, the Supreme Court cited the Indigenous Basic Act (原住民族基本法), according to which the government should protect Aboriginal culture and customary practices, along with the exemption of people of Aboriginal descent from the firearm laws.
The ruling said that the current law did not specify the types of firearms exempt from the law — whether muzzle-loading rifles or breech-loading rifles — and thus there was no stipulated restriction on the types of home-made firearms that Aboriginal people may own or possess.
After the ruling yesterday, Aboriginal groups conducted ritual celebratory ceremonies outside the Supreme Court in Taipei City to relay a message about the verdict to their ancestral spirits.
Comments will be moderated. Keep comments relevant to the article. Remarks containing abusive and obscene language, personal attacks of any kind or promotion will be removed and the user banned. Final decision will be at the discretion of the Taipei Times.