China not a 'foreign country,' Ma says
President Ma Ying-jeou (馬英九) yesterday reiterated that cross-strait relations are not state-to-state, and that China cannot be considered by Taiwan as a foreign country.
If cross-strait ties were state-to-state, there would be no need for the Mainland Affairs Council, and relations would be handled by the Ministry of Foreign Affairs' Department of East Asian and Pacific Affairs, Ma said at a meeting of the Chinese Nationalist Party (KMT), of which he is chairman.
However, issues relating to China are also not purely domestic, Ma said, because exports to China are charged import duties and permits are needed for Taiwanese seeking entry into China and Chinese coming to Taiwan.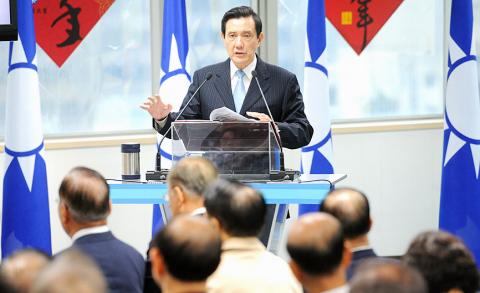 President Ma Ying-jeou speaks during the Chinese Nationalist Party's (KMT) 19th Review Committee meeting in Taipei yesterday, reiterating that cross-strait relations are not state-to-state and China is not a foreign country.
Photo: Chu Pei-hsiung, Taipei Times
These conditions demonstrate that Taiwan and China are in a special relationship, Ma said, reiterating a position that drew criticism when he mentioned in his Double Ten National Day speech last month.
In that address, the president said "cross-strait relations are not international relations," which opposition politicians said signaled the possibility of unification with China and represented a concession to Beijing.
Ma said yesterday that his views were supported by the Republic of China Constitution, which he said does not allow for "two Chinas," "one China and one Taiwan," or an independent Taiwan.
He also cited the Constitution in defending his definition of the cross-strait relationship as one in which Taiwan and China do not deny each other's authority to govern, but do not recognize each other's sovereignty.
That definition of cross-strait ties "did not begin when we took office, but was settled when the Constitution was amended more than 20 years ago" and was not changed by his two predecessors, former presidents Lee Teng-hui (李登輝) and Chen Shui-bian (陳水扁), Ma said.
Comments will be moderated. Keep comments relevant to the article. Remarks containing abusive and obscene language, personal attacks of any kind or promotion will be removed and the user banned. Final decision will be at the discretion of the Taipei Times.