First six AH-64E Apache attack helicopters arrive
WELCOME DELIVERY: Taiwan will become the first country outside the US to deploy the helicopters, which the military says are superior to those used by China Taiwan will become the first country outside the US to deploy the helicopters, which the military says are superior to those used by China
The first six AH-64E Apache attack helicopters purchased from the US have been delivered, Minister of National Defense Yen Ming (嚴明) said yesterday.
The model E is currently the most advanced model of the AH-64 Apache and will significantly improve the military's mobility and power, Yen told legislators during a meeting of the Foreign Affairs and National Defense Committee.
The minister said the AH-64E is superior to China's latest WZ-10 attack helicopter, although China has more attack helicopters.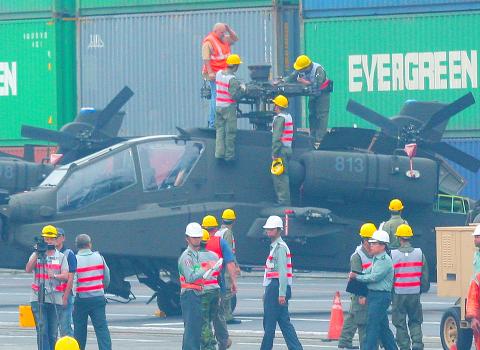 Workers check the rotor of a newly delivered AH-64E Apache attack helicopter at the Port of Kaohsiung yesterday.
Photo: CNA
Equipped with AN/APG-78 Longbow Fire Control Radar, the US-made helicopter is good both on land and sea-based reconnaissance, Army Chief of Staff General Hao Yi-chih (郝以知) said.
The six AH-64Es are part of an order of 30 of the advanced US attack helicopters that the military bought for NT$59.31 billion (US$2.01 billion) under a deal announced in 2008 by then-US president George W. Bush.
Taiwan will be the first country outside the US to deploy this type of helicopter when they become operational in April at air bases in northern parts of the country.
The US Army took delivery of its first AH-64Es at the end of 2011.
A second batch of helicopters is scheduled to be delivered to Taiwan late next month and the full order will be completed in five batches by the end of next year, the military said.
Also during yesterday's meeting, Yen reiterated the government's desire to purchase submarines from the US following the delivery of the first of 12 P-3C marine-patrol aircraft in late September.
Meanwhile, Navy Chief of Staff Kao Tien-chung (高天忠) said the defense ministry is planning to replace the aging Sea Chaparral missiles currently installed on the Kangting-class frigates (French-made Lafayette frigates) with Sky Sword II missiles in 2017.
Comments will be moderated. Keep comments relevant to the article. Remarks containing abusive and obscene language, personal attacks of any kind or promotion will be removed and the user banned. Final decision will be at the discretion of the Taipei Times.