FEATURE: Japanese-era engineer commemorated
'FATHER OF BAILENG CANAL': Norio Isoda designed and built the canal in Greater Taichung, which residents say helped develop the mushroom and orchid industries
Greater Taichung residents last week unveiled a statue dedicated to Japanese engineer Norio Isoda, in memory of his work in the construction of Baileng Canal (白冷圳), built to irrigate farms and supply municipal water early in the 20th century.
The commemoration took place on Tuesday last week at the site of the canal in Sinshe District (新社) and was attended by Isoda's daughter, Yoshiko Matsutoya, 85, as well as other family members, who traveled from Japan to attend the commemoration.
Construction began in 1928, and the canal was completed in 1932. It provided irrigation for tens of thousands of farmers and the supply of water for residents and industry, helping develop what were then the rural townships of Sinshe, Dongshih (東勢) and Shihgang (石岡).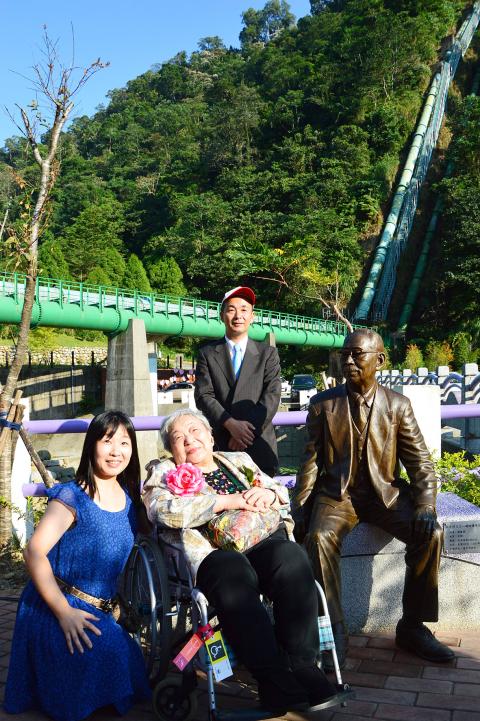 Yoshiko Matsutoya, daughter of Japanese engineer Norio Isoda, center, and family members pose next to a bronze statue of her father on Oct. 15 in Greater Taichung.
Photo: Chang Jui-chen, Taipei Times
Honoring the canal's designer and head engineer, residents recognized Isoda as "Father of Baileng Canal."
"The bronze statue is very much like my father. Now he can remain here always, observing each day's sunrise and sunset, the seasonal movements of the moon and stars, as he watches over and protects the Baileng Canal for all time," Matsutoya said.
Commissioned by the Greater Taichung Government's Water Resources Bureau, the status was made by famed artist Hsieh Tung-liang (謝棟樑).
The statue was built to life-size scale and has Isoda wearing his favorite Western-style suit, seated on a stone bench.
Behind the statue is the 320m-long Baileng Canal No. 2 pipe, which rises up over a mountain.
This section of the canal was Isoda's best-known engineering work, and is still the longest hydrological conduit in East Asia, designed on the "inverted siphon" operating principle.
The entire canal project was designed and built by Isoda to draw water from the Dajia River (大甲溪) for use in the surrounding farmlands, villages and towns. It is 16.6km in length and irrigates 788 hectares of farmland.
Matsutoya was born in Taipei during the Japanese colonial period.
As a child, she followed her father on his inspection rounds around Sinshe and rural Taichung.
"I remember my father took me around here to inspect the Baileng Canal. He and I would stroll along the river banks and the levee dikes," she said.
"My longest-lasting impression of my father was when a typhoon was coming, he would go out to inspect the project while wearing a farmer's bamboo leaf hat. Even with the heavy winds and rain coming down hard, he went out to check on the engineering work because he wanted to ensure the progress on the construction was not delayed," she said.
Matsutoya grew up in and was educated in Taiwan, but left for Japan when she was 20, when Japanese rule in Taiwan ended at the end of World War II.
Matsutoya said she was moved to tears when farmers from Sinshe District visited her home in Japan last month, bringing gifts of mushrooms.
Besides Matsutoya, a 31-member Japanese delegation also attended the commemoration, including other family members, officials from Kanazawa City where Isoda's family came from, and representatives from organizations promoting Taiwan-Japan friendship exchanges.
Ninty-seven-year-old farmer Yang A-han (楊阿漢) gave his perspective, saying: "Agricultural produce in Sinshe depended on irrigation from the Baileng Canal. Because of the project, the standard of living of local residents improved. The canal also enabled Sinshe to develop our current mushroom and orchid flower industries."
"I have tremendous respect for the head engineer. The respect for Isoda is endlessly flowing forth like a well spring," Yang added, even though he never met Isoda in person.
Comments will be moderated. Keep comments relevant to the article. Remarks containing abusive and obscene language, personal attacks of any kind or promotion will be removed and the user banned. Final decision will be at the discretion of the Taipei Times.