Nanfangao port celebrates 90th anniversary
Celebrating the 90th anniversary of the founding of Nanfangao Fishing Port (南方澳漁港) in Yilan County's Suao Township (蘇澳), the county government has planned a series of events to allow visitors to discover the daily life, history, culture and seafood specialties of the town.
Built in 1923 and expanded several times through the years, Nanfangao Fishing Port is now one of the nation's three major fishing ports and a paradise for seafood lovers.
"We have organized a 'one-day fisherman' program which will run from tomorrow until Sunday next week to allow visitors to get to know the small fishing town with a population of less than 10,000, as part of the port's 90th anniversary celebrations," Yilan County Agriculture Department Planning Division Director Lee Hsin-tai (李新泰) said.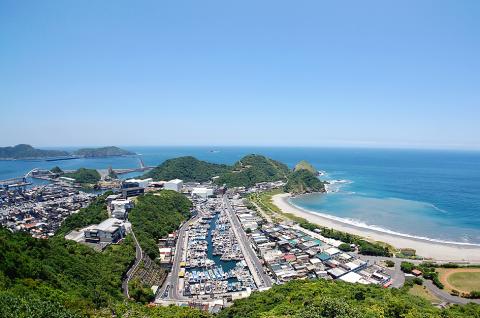 Nanfangao Fishing Port in Yilan County's Suao Township is pictured on July 11.
Photo: Lu Chun-wei, Taipei Times
"Included in the program is an in-depth guided tour of the town during which visitors will learn about Nanfangao's history, culture, landmark attractions and different types of fishing boats, tools and methods, as well as a boat ride — and of course a seafood feast featuring local fishermen's fresh catches," he added.
While places on the tour are limited to only 40 per day, it is not difficult for individual travelers to explore the town, said Chen Chan-chin (陳長欽), a native of Nanfangao who now serves as a volunteer local tour guide.
Chen recommended that independent travelers pay a visit to the town's tourist information center, which is next to the bus stop where visitors from Taipei disembark, to help them plan their visit.
Next to the center is Jinan Temple (進安宮), devoted to the goddess Matsu (媽祖).
"Matsu is the Goddess of the Sea and therefore one often finds Matsu temples in fishing towns," Chen said. "In Nanfangao, we have two Matsu temples, housing very special and legendary Matsu statues."
Chen said a jewelry trader from Taipei came to Jinan Temple in 2007 and said he would like to present a coral statue of Matsu.
"The man said he had a dream one night in which a black-faced Matsu told him that he should make a coral statue of Matsu and give it to a Matsu temple," Chen said. "He then traveled around the nation to visit all the Matsu temples and when he stepped into Jinan Temple, he found it looked exactly like the temple that appeared in his dream. He therefore decided to present a coral statue of Matsu to the temple."
A few hundred meters from Jinan Temple is another temple devoted to Matsu, Nantien Temple (南天宮).
Nantien Temple became very popular when, in 1987, five statues of Matsu from Meizhou, China, came to Nanfangao on a fishing boat, Chen said.
"The fishing boat was actually registered at Toucheng Township [頭城], Yilan County, and was supposed to return to Toucheng, but it came into Nanfangao port instead because of bad weather," Chen said. "After the fishing boat docked, it was found to be carrying smuggled goods from China. Among the goods were five statues of Matsu from Meizhou, which is the goddess' hometown."
Although the law requires that all smuggled items have to be destroyed, townspeople and politicians petitioned the government to preserve the Matsu statues. The government decided to make an exception in the case of the sacred statues and they were not destroyed.
Through the divine blocks, Matsu indicated that the statues would stay in Nantien Temple, instead of being escorted to Toucheng on the fishing boat.
As cross-strait travel was not allowed at the time, the five Matsu statues from Matsu's hometown became a pilgrimage destination and through massive donations from pilgrims, the temple decided to build a three-story building recounting the story of Matsu's life, Chen said.
On the building's first floor, visitors can see a statue of Matsu with a human face, which represents Matsu before she became a goddess, Chen said. The second floor houses a black-faced Matsu statue which was made from 4.5 tonnes of black jade from Canada, he added, which represents the spirit of Matsu when she leaves her body to save people. On the third floor sits a golden Matsu statue made from 198kg of gold, which represents Matsu at the time of her ascension.
Chen said the golden Matsu is also nicknamed "the smiling Mazu," because legend has it that it looks as if the goddess is smiling when looking at the statue from a particular angle, "and people believe that Matsu will answer your prayers if you see her smiling."
After visiting the Matsu temples, a seafood meal can be enjoyed along the main street dotted with seafood restaurants right in front of Nantien Temple.
Nanfangao is also the most important mackerel port in Taiwan.
"The major season for mackerel is from September to about February, and the quality of the catch is very good in Nanfangao," said Chen Chun-chieh (陳俊傑), owner of a local seafood processing plant.
"Nanfangao supplies more than 90 percent of the mackerel in the Taiwanese market," he added.
Also on the main street is a former iron works factory, San Gang Iron Works Co, which has been turned into a museum for local history and culture, and is worth a visit to learn more about Nanfangao, Chen Chun-chieh said.
Comments will be moderated. Keep comments relevant to the article. Remarks containing abusive and obscene language, personal attacks of any kind or promotion will be removed and the user banned. Final decision will be at the discretion of the Taipei Times.