Hearing-impaired women star in film
LISTEN FOR HAPPINESS: An organization for the rights of the hearing impaired said the film was aimed at inspiring people with hearing impairments to follow their dreams
Two young women have won accolades for their performances in a small-budget film, which is a true-to-life depiction of their experiences overcoming hearing impairments and battling discrimination.
Chiang Wen-yi (江文頤) and Lin Ching-lan (林靖嵐), who were cast in the leading roles, attended the film's premiere on Wednesday last week to meet the audience and speak about their experiences.
The film, Use Your Heart to Listen for Happiness (用心聽見幸福), was based on true stories of the struggles and difficulties encountered by people with hearing impairments.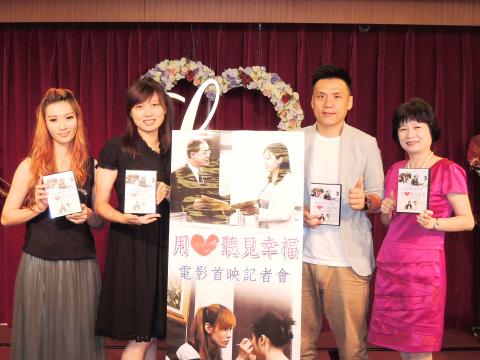 From left to right, Lin Ching-lan and Chiang Wen-yi, Cheng Chih-chao and Sound Home Alliance Association honorary chairperson Mo Su-chuan appear at the premiere of a new short film in Greater Tainan on Wednesday last week.
Photo: Wang Chun-chung, Taipei Times
The storyline revolves around two friends who have hearing impairments, with Chiang in the role of Hsiao-yun (曉雲), and Lin playing her namesake, Ching-lan (靖嵐).
Hsiao-yun is an office worker and, due to her impaired hearing, she has to put in more effort and time than her colleagues to succeed at her job.
Due to her persistence and determination to achieve success at work, she is finally accepted by her in-laws.
Ching-lan is a young woman with a passion for dance.
By practicing diligently, she fulfills her dream of becoming a professional dancer and subsequently founds Taiwan's first troupe for hearing-impaired dancers, giving them the confidence to strive for their dreams.
The storyline closely mirrors the pairs' real-life experiences while giving insight into the inner world of the hearing impaired, which is seldom touched upon in commercial films.
Both women are amateur actors and others in the cast were also hearing impaired.
"Hearing impairment is like being near-sighted for most people; it causes inconvenience in daily life. Vision problems can be corrected by wearing eyeglasses. Hearing problems can be helped by wearing a hearing aid, along with learning sign language, lip reading and undergoing speech therapy," Chiang said.
"When these hearing aids and skills can be utilized, our intelligence and ability to work will not be affected much. On the contrary, when a hearing impairment can be overcome, it can stimulate hidden potential and bring out further capabilities," she added.
With a moderate degree of hearing impairment, she has worn a hearing aid since childhood.
Thanks to her parents' whole-hearted support of her education, Chiang underwent speech therapy, and made good progress in school.
She is a role model for other hearing-impaired people as she passed her examinations to enter university and obtained a post-graduate degree from the College of Management at Yuan Ze University in Taoyuan County.
She currently works at Taiwan Semiconductor Manufacturing, the world's top contract chipmaker.
Lin has been severely hearing impaired since birth.
She graduated from university with a degree in special education while keeping up her love of dancing.
In the Taipei Deaflympic Games in 2009, Lin won a silver medal in dance.
Later, she started a dance troupe to teach dance to physically challenged children.
The film was produced by an organization for the rights of the hearing impaired — the Sound Home Alliance Association.
"We cannot change their conditions. Some people are born deaf, but through education, they can break out from their silent world. We can lead advocacy campaigns for the public to understand the inner world of deaf people," association honorary chairperson Mo Su-chuan (莫素娟) said.
"We want to show society: Do not let hearing impairments impede social interaction. It is also our aim to inspire deaf people, to allow them to understand that the road to success can be made only by hard work," Mo said.
Several screenings of the film with panel discussions are scheduled for cities across the nation over the next few months.
The film is also available on YouTube.
Comments will be moderated. Keep comments relevant to the article. Remarks containing abusive and obscene language, personal attacks of any kind or promotion will be removed and the user banned. Final decision will be at the discretion of the Taipei Times.