Gender identity disorder reflected in brain: study
A research team led by psychiatrists and scientists at Taipei Veterans General Hospital and National Yang-Ming University's Institute of Brain Science has found that people with gender identity disorder (GID) are characterized by structural and functional alterations in the brain.
People with GID are conflicted between their biological sex and their gender identity.
The research team found, by means of functional connectivity magnetic resonance imaging (fcMRI), that the neural connectivity between the part of the brain associated with GID and that with social brain network shown by transsexuals differs — by being more active — from how it is displayed in their non-transsexual counterparts.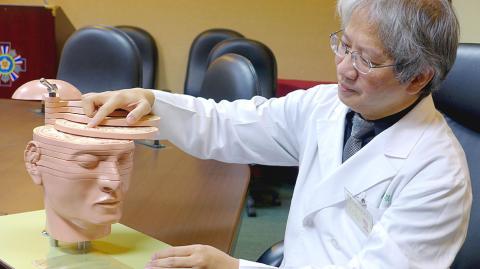 Taipei Veteran General Hospital attending physician Hsieh Jen-chuen shows a sectioned model of a human brain to reporters in Taipei yesterday. A team of neuroscientists at the hospital has found that transgendered people's brains have unique characteristics that show up during MEG scans.
Photo: Hung Su-ching, Taipei Times
GID in the brain is believed to contribute to the control of sexual behavior, and the social brain network is the neural structure that is responsible for social interactions such as interpersonal relations, conflict monitoring and punishment adjustment.
The study also found that "transsexuals identify, when viewing male-female couples in erotic or non-erotic ["neutral"] interactions, with the couple member of the desired gender in both situations," while the non-transsexual controls only did so in the erotic situations.
"The increased connectivity between the area in the brain that is associated with biological sex, sexual characteristics and behavior, and the area associated with social functions such as emotional conflicts, has formed a neural network of 'system memory' that is absent in non-transsexuals," said Hsieh Jen-chuen (謝仁俊), one of the authors of the report and a professor at the institute. "And the presence of the network reflects the conflicts they have experienced both psychologically and physically."
The psychosocial maladaptation evidenced by the difference of neural connectivity patterns in transsexuals "suggests a brain signature of the psychosocial distress for the gender-sex incongruity of [transsexuals]," the researchers said.
Psychiatrist Lee Ying-chiao (李鶯喬), one of the authors, said that among the 517 GID patients she has seen in the past 18 years, half exhibited symptoms of depression.
Comments will be moderated. Keep comments relevant to the article. Remarks containing abusive and obscene language, personal attacks of any kind or promotion will be removed and the user banned. Final decision will be at the discretion of the Taipei Times.