Yunlin protesters throw shoes at president
President Ma Ying-jeou's (馬英九) visit to Yunlin County yesterday was marred by a protest by more than 200 residents, some throwing shoes as the president arrived, because they blame the government for ignoring the county's flooding problems.
The protesters carried signs and shouted: "Step down, Ma Ying-jeou" in front of the National Yunlin University of Science and Technology while being blocked by police officers. They were so occupied that they did not notice Ma's motorcade when it arrived.
The protesters later clashed with police and started throwing shoes. Police deployed nets to catch the shoes.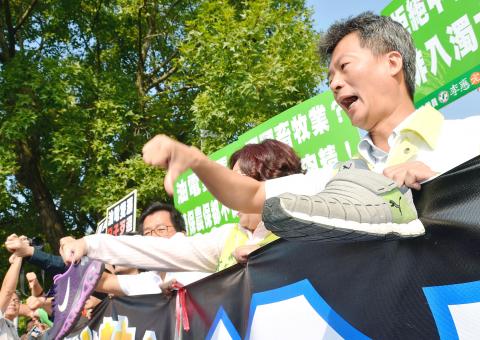 Environmental activists yesterday prepare to hurl shoes at President Ma Ying-jeou, who was visiting the National Yunlin University of Science and Technology.
Photo: CNA
Small and large-scale anti-Ma protests have become common at public events the president is scheduled to attend.
His popularity has dropped to below 10 percent, according to some opinion polls.
The president was unfazed by the protest and defended the government's nuclear policies when meeting with a group of students at a green energy forum at the university.
Amid opposition to the government's plan to continue the construction of the Fourth Nuclear Power Plant in Gongliao District (貢寮), New Taipei City (新北市), Ma said the government would adopt the highest safety standards while continuing the operation of the nation's nuclear power plants and stressed the advantages of nuclear energy, including its high efficiency and low cost.
Forty percent of the nation's electricity comes from fossil fuels, 30 percent from natural gas and 18.5 percent from nuclear power. The rest is supplied by alternative energy sources, he said.
Ma said that the government has conducted thorough inspections of the nation's nuclear power plants already in operation over the past two years, adding that the government would allow the public to decide via a referendum whether construction of the Fourth Nuclear Power Plant should continue.
Ma acknowledged that nuclear waste is a problem, but insisted the issue has not stopped other countries from developing nuclear energy.
"There are new technologies for handling nuclear waste and this challenge has yet to become a reason for others in the international community to abandon nuclear energy," he said.
Countries that have suffered nuclear disasters, such as Japan, the US and Russia, continue to use or develop nuclear energy, he said, adding that abandoning nuclear energy is not a global trend.
Comments will be moderated. Keep comments relevant to the article. Remarks containing abusive and obscene language, personal attacks of any kind or promotion will be removed and the user banned. Final decision will be at the discretion of the Taipei Times.