Autopsy performed on body of Dapu Borough man
TRAGEDY: Chang Sen-wen's family said he was on the verge of collapse after the forced demolition of his Dapu house by the Miaoli County Government in July
Investigators yesterday performed an autopsy on the body of Dapu Borough (大埔) resident Chang Sen-wen (張森文), who was found dead near his former house on Wednesday.
Chang's home — along with those of three other families — was forcibly torn down on July 18 by the Miaoli County Government.
Chang was found dead in an irrigation channel a little more than 200m away from the site of his former home on Wednesday.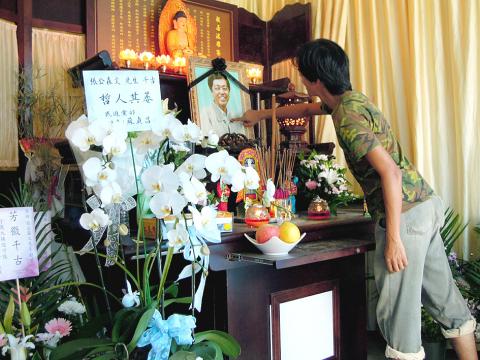 Chang Yuan-hao wipes dust from his father's altar in Miaoli County yesterday. Chang Yuan-hao's father, Chang Sen-wen, was found dead in an irrigation canal only 200m from the site of their former home in Miaoli County's Dapu Borough on Wednesday. They and three other families had their homes forcibly torn down on July 18 by the Miaoli County Government.
Photo: Lin Hsin-han, Taipei Times
Chang's family believe he was pushed into the channel, but they were unwilling to have his body dissected.
Investigators yesterday morning moved the deceased's body to an anatomy room of the Institute of Forensic Medicine at the Ministry of Justice in Taipei.
The Chang family had forensic expert Kao Ta-cheng (高大成) represent it in negotiations with the investigators.
After Kao came to see Chang's body and talked with official forensic experts, he told the family that an autopsy should be performed to determine the cause of Chang's death.
After the family agreed, Chang's autopsy was performed by three official forensic experts.
Kao observed the procedure.
Prosecutor Chiang Yung-hao (姜永浩) with the Miaoli District Prosecutors' Office, who is in charge of the investigation, said an autopsy report would be released in one month.
According to the Chang family, Chang Sen-wen had been mentally and physically on the verge of collapse since before the forced demolition on July 18.
Although the cause of his death has not yet been determined, Chang's family and supporters are blaming the government officials who insisted on tearing down his house.
Comments will be moderated. Keep comments relevant to the article. Remarks containing abusive and obscene language, personal attacks of any kind or promotion will be removed and the user banned. Final decision will be at the discretion of the Taipei Times.