Dapu resident's death sparks impromptu protests
POINTING FINGERS: Protesters rallied outside the Executive Yuan and Ma's home on Wednesday night after Dapu resident Chang Sen-wen was found dead earlier in the day
Following the death of a resident of Dapu Borough (大埔), whose house was demolished by the Miaoli County authorities two months ago, protesters staged surprise protests outside the Executive Yuan and the presidential residence late on Wednesday, leading to minor clashes with police.
Despite their efforts to stop forcible demolitions through administrative and legal means, as well as street demonstrations, the home of Chang Sen-wen (張森文) — along with those of three other families — were torn down in July.
Chang was found dead in an irrigation channel a little more than 200m away from the site of his former home on Wednesday.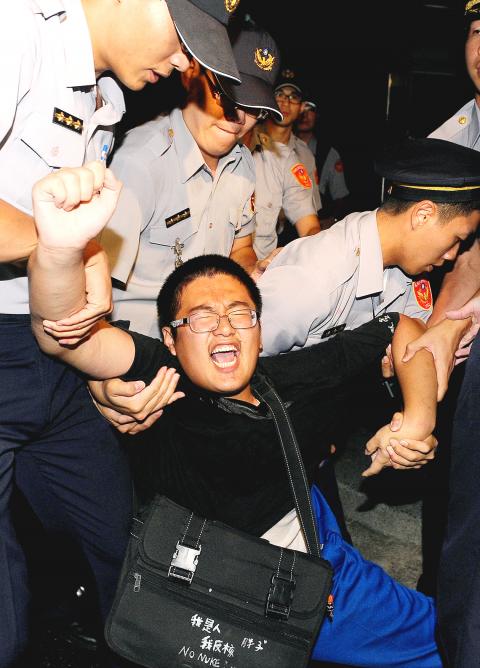 Police officers restrain a demonstrator who had attempted to climb over the fence outside the Executive Yuan in Taipei on Wednesday night during a protest following the death of Chang Sen-wen, a resident of Dapu Borough, Miaoli County.
Photo: Chu Pei-hsiung, Taipei Times
While the cause of his death has not yet been determined, Chang's family and supporters are blaming the government officials who insisted on tearing down his house.
"[Premier] Jiang Yi-huah [江宜樺] come out! Take up your responsibility!" dozens of protesters shouted outside the Executive Yuan at about 9:30pm on Wednesday.
Police officers rushed to the scene, quickly outnumbering the protesters, and clashes both physical and verbal erupted as some protesters tried to climb over the fence into the Executive Yuan's compound.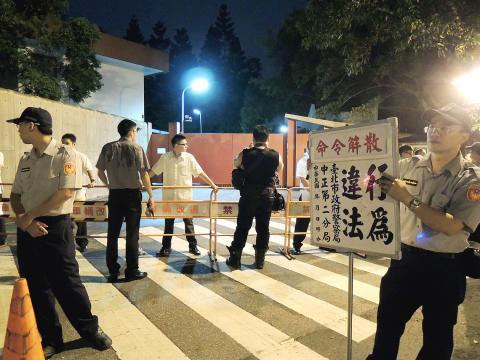 A policeman holds up a sign outside the presidential residence in Taipei overnight on Wednesday, warning demonstrators that their protest is illegal and asking them to disperse, as police officers and military police set up barricades.
Photo: Hsieh Wen-hua, Taipei Times
Another group of protesters turned up outside the presidential residence after midnight, blaming President Ma Ying-jeou (馬英九) for Chang's death. They pushed and shoved the security guards and military guards outside the residence, and threw red paint and ghost money before leaving.
Meanwhile, National Tsing Hua University student and Youth Alliance for Miaoli spokesman Chen Wei-ting (陳為廷) said he had been the one to throw a shoe at Miaoli County Commissioner Liu Cheng-hung (劉政鴻) on Wednesday night when Liu tried to pay his respects to the Chang family over Chang Sen-wen's death.
"I bought the pair of shoes a year ago before taking part in a march from Miaoli to Taipei with workers who were illegally laid off by the Hualong Group. Exactly a year later, one of the shoes broke after being stepped on by police officers who were escorting Liu to the Changs' residence," Chen said in a posting on Facebook.
"I think the shoe was sacrificed in a righteous way," Chen wrote.
Asked by reporters if he was worried that Liu might take legal action against him, Chen said he was already facing several lawsuits for the protests he took part in.
"One more lawsuit makes no difference," he said.
Earlier in the day, former Democratic Progressive Party (DPP) chairperson Tsai Ing-wen (蔡英文) visited the Chang family to pay her condolences.
"The government must take the lion's share of the responsibility [for Chang Sen-wen's death]," Tsai said.
She also promised to add her name to a proposed amendment to the Land Expropriation Act (土地徵收條例) that the Taiwan Rural Front plans to submit to the legislature.
The public should not become detached from such issues, or try to cloud them, Tsai said, adding that everyone should push for the amendments.
A crowd also gathered at Liberty Square in Taipei last night to remember Chang.
Additional reporting by Jake Chung
Comments will be moderated. Keep comments relevant to the article. Remarks containing abusive and obscene language, personal attacks of any kind or promotion will be removed and the user banned. Final decision will be at the discretion of the Taipei Times.