FEATURE: Pair pull out stops to rescue strays from life on street
Forty-two-year-old Hsiao Ka (小卡) and 62-year-old Kao Shih-hsiang (高世祥) may have very different lives, but they have one thing in common — an unreserved love of animals.
It was what brought Kao and Hsiao Ka together three years ago, prompting them to join 50 like-minded people to establish the "Cats and Dogs Rescue Fan Club" — the predecessor of "Hsiao Ka Cats and Dogs Rescue Fan Club" — in July 2011.
Over the course of the past two years, the club has helped neuter about 700 stray animals and taken in 300 dogs and 40 cats.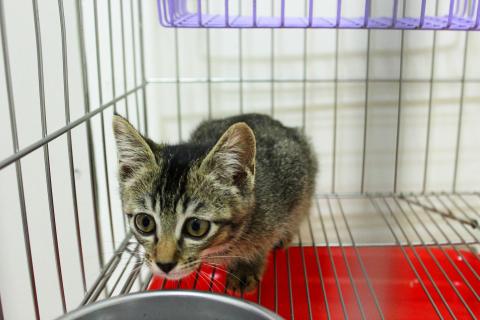 A kitten rescued by the Cats and Dogs Rescue Fan Club awaits adoption in New Taipei City's Sanchung District on Aug. 6.
Photo: Chen Wei-tzu, Taipei Times
"I don't worry about rabies at all," Hsiao Ka said, referring to the recent cases that have brought the country's 52-year-long rabies-free status to an end. "I routinely get rabies shots and all the stray animals we rescue get anti-rabies injections, are neutered and implanted with microchips."
Hsiao Ka said it does not matter if some of the sheltered animals never find a new home, because she would always be there to look after them.
"All the furry children here are healthy, happy and disease-free," she said.
She said her quest to save strays started with a street dog that she adopted called Ku Lo.
"Ku Lo was abducted by a stranger who chained her up in a room and tortured her for two weeks, leaving her with skull fractures and serious knife injuries to the abdomen and limbs," Hsiao Ka said.
"Although Ku Lo managed to escape from the kidnapper and return home, the cruelty she was subjected to changed her completely," she said. "Whenever she was chained, she would bark like crazy and keep knocking down stuff to try to free herself of the leash."
To allow Ku Lo to live leash-free, Hsiao Ka moved from a small condo in New Taipei City's (新北市) Sanchung District (三重) to a traditional three-section compound in Taoyuan County's Dayuan Township (大園).
Four years ago, Hsiao Ka left Taoyuan for more than two months to join relief efforts in Greater Kaohsiung's Liukuei Township (六龜) after the area was severely battered by Typhoon Morakot in August 2009.
"After not seeing me for weeks, Ku Lo must have thought that I had abandoned her so she decided to walk all the way from Dayuan to Sanchung via Provincial Highway No. 61 to find me," Hsiao Ka said.
"However, she was only half-way there when she was fatally struck by a car," she said, with tears in her eyes. "I wish I had taken her with me [to Liukuei]."
Following the accident, Hsiao Ka decided to extend her love for Ku Lo to other animals in distress, quitting her job to look after strays full-time.
For Kao, feeding stray animals has been an indispensable part of his life for years, though his kindness is sometimes criticized as a "cause of environmental mess."
"I don't mind criticism because different people have different views, but as far as I'm concerned, animals are also living creatures," Kao said, adding that he is the type of person who cries for days if his pets get injured.
Kao said because he already has three grandchildren and a chihuahua at home, there is no space for him to take care of another dog.
Nevertheless, Kao has found other ways to reach out to animals on the street, such as by contributing NT$6,000 (US$200) a month to the club and helping take care of the animals there on a daily basis for the past two years.
"We should all live a meaningful life after retirement, rather than just sinking into the couch and watching TV all day," Kao said.
Despite its members' enthusiasm, the club has struggled financially because of the large number of animals it shelters and its limited source of income.
It is entirely dependent on donations from volunteers and netizens, as well as on the monthly allowance of NT$10,000 that Hsiao Ka receives from her husband.
"Every month, we need to pay NT$80,000 rent for the shelter and spend NT$60,000 on feeding the animals," Hsiao Ka said, adding that she has also racked up about NT$70,000 in unpaid medical bills at a local veterinary hospital.
Despite the challenges, Hsiao Ka has no regrets and says she has been lobbying for a "household pet tax" to tackle the stray animal problem at its source.
Unscrupulous breeding farms have caused a surplus of companion animals, resulting in a vicious price war that has in turn negatively impacted young people's perception of pets, Hsiao Ka said.
"Because household pets have become more affordable, young people tend to forget about the duty of care and social responsibilities attached with the animals they bring home," she said.
"That is why I urge the government to implement a household pet tax system which requires breeding farms and pet sellers to pay a 5 percent pet tax on sales of pets," she said.
Comments will be moderated. Keep comments relevant to the article. Remarks containing abusive and obscene language, personal attacks of any kind or promotion will be removed and the user banned. Final decision will be at the discretion of the Taipei Times.