Avoid contact with alpacas: animal experts
With the nation falling off the list of rabies-free countries and facing a potential outbreak, animal specialists warned the public against having close contact with alpacas whose spitting habit could facilitate transmission of the deadly virus.
The majority of alpacas reared in the nation's leisure farms is imported from rabies-free nations such as New Zealand and Australia and has to be quarantined before being allowed into the country.
However, since the Bureau of Animal and Plant Health Inspection and Quarantine (BAPHIQ) does not require mandatory rabies vaccinations for the animals, which have become very popular since their first import, tourists should avoid close-range interactions with them, such as feeding or posing next to them for pictures, animal specialists said.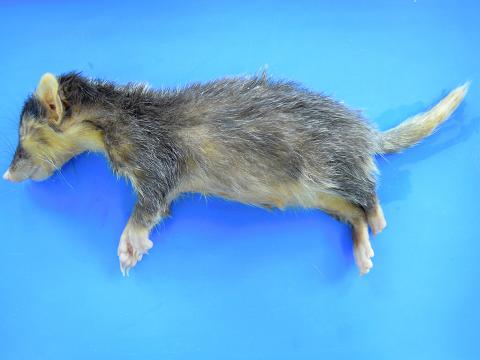 A dead wild Formosan ferret-badger is shown in a picture taken in Hsinchu yesterday. While the cause of its death is not yet known, it is known for certain that it showed no signs of rabies infection before its death.
Photo: Huang Mei-chu, Taipei Times
Cheng Hsi-chi (鄭錫奇), chief of the Zoology Division at the Council of Agriculture's Endemic Species Research Institute, said most of the farms that have imported alpacas are located near mountainous areas, where wild Formosan ferret-badgers are common.
"[People] could be at risk of rabies infection [should they have close contact with] an alpaca that was bitten by a rabies-infected ferret-badger, dog or cat, given that alpacas have a tendency to spit as a defensive mechanism when threatened or approached by animals they don't like," Cheng said.
The Council of Agriculture announced last week that three dead wild ferret-badgers from Yunlin County's Gukeng (古坑) and Nantou County's Yuchi (魚池) and Lugu (鹿谷) tested positive for rabies last year, ending the nation's 52-year status as free of rabies in animals.
Rabies is a highly fatal viral disease of warm-blooded mammals that can be transmitted in the saliva of infected animals.
Kurtis Pei (裴家騏), a professor at National Pingtung University of Science and Technology's Institute of Wildlife Conservation, said the common practice of raising animals in high-density conditions have resulted in the increasing number of emerging infectious diseases.
"To make matters worse, most leisure farms in the nation are notorious for their poor animal care," Pei said, adding that it could be "loophole in the government's disease prevention."
When asked whether rabies vaccination should be made compulsory for alpacas and other animals at such farms, BAPHIQ Deputy Director Chao Pan-hua (趙磐華) said it was a proposal worth considering.
Comments will be moderated. Keep comments relevant to the article. Remarks containing abusive and obscene language, personal attacks of any kind or promotion will be removed and the user banned. Final decision will be at the discretion of the Taipei Times.