Ex-prisoners, Lee visit Green Island park
MEMORY LANE: The former president said Taiwan had been 'silenced' during the Martial Law era, which is why he felt he had to make an apology when he was in office
Four former political prisoners yesterday shared their stories with former president Lee Teng-hui (李登輝) at the Green Island Human Rights Memorial Park and said that the nation's tragic past should be remembered so that democracy and freedom could persevere.
"We came back here as winners, because they [the former Chinese Nationalist Party (KMT) regime] did not defeat us. They wanted us to die, but we survived," said Kuo Chen-chun (郭振純), one of the four.
The park was originally home to two prisons built to accommodate political prisoners during the White Terror era.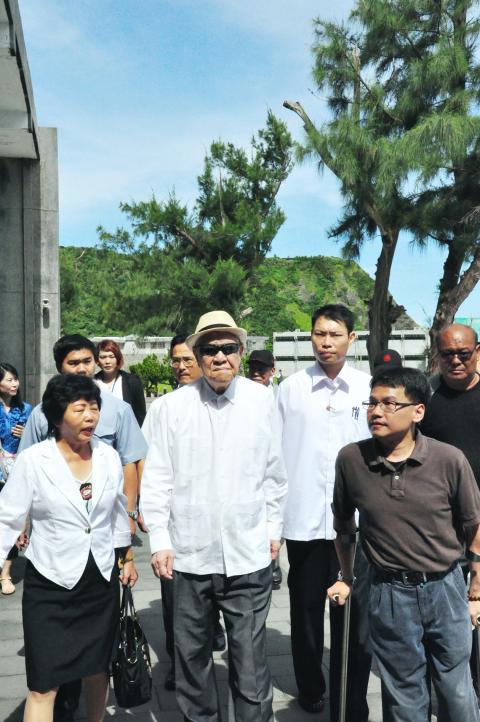 Former president Lee Teng-hui, center, yesterday visits a human rights memorial park on Green Island.
Photo: CNA
The four, all "first-generation" prisoners, were kept in the prison, which jailed more than 1,300 at its peak, between the 1950s and 1960s.
Kuo was 28 years old when he was arrested in 1953 and was sentenced to 22 years for treason.
Tsai Kun-lin (蔡焜霖) was only 20 when he was accused of "associating with the communists" because one of his friends was a member of the Chinese Communist Party (CCP).
Tsai described his time in prison in a more positive tone, saying that prison "felt like a university or a graduate program" because the majority of the political prisoners on the island were from the social elite, including university professors, physicians and artists, so he had learned a lot.
Chang Chang-mei (張常美) was one of the few female political prisoners on the island.
She was an 18-year-old high-school student when she was sent to prison after a student association member accused her of being a CCP member.
Chang, who married a man who had been a political prisoner on the island after they were released, complained about the former KMT administration's intentional neglect of the White Terror era history in school textbooks.
"Children nowadays do not know what happened because they were never taught about it," Chang said.
Chen Meng-he (陳孟和) echoed Chang's view, saying that although President Ma Ying-jeou (馬英九) has apologized to former political prisoners four or five times, he still tries to find excuses for the KMT's authoritarian past.
That is why former prisoners appreciated Lee's 1999 apology to political prisoners and their families — the first time a president apologized on behalf of the government — said Chen, a painter who was imprisoned for 15 years.
"Taiwan was 'silenced' during the 38 years of martial law, with many members of the social elite wiped out or imprisoned for what they believed or even for something they had not done," Lee said.
"That was why I had to do what I could — push for the compensation of or restoration of the reputation of [political] prisoners," the former president added.
Lee and the former prisoners visited the memorial park, where prison buildings have been turned into exhibition spaces, and paid tribute to the hundreds of former prisoners whose names have been etched in stone.
Speaking in front of the memorial monument, Lee spoke about the "power of memory," saying that history should not be forgotten and only by remembering its past could Taiwan find the direction to move forward.
Lee is scheduled to conclude his three-day visit to Taitung today.
Comments will be moderated. Keep comments relevant to the article. Remarks containing abusive and obscene language, personal attacks of any kind or promotion will be removed and the user banned. Final decision will be at the discretion of the Taipei Times.