Ma's tour ignored green energy, DPP says
WRONG FOCUS: The DPP chairman said the president should not be touring nuclear facilities, but should look at developing green energy and publicize policies
The Democratic Progressive Party (DPP) yesterday criticized President Ma Ying-jeou's (馬英九) energy inspection tour for not including Pingtung County's green-energy industry, despite staying the night at the Ma-anshan Nuclear Power Plant in Ma-anshan (馬鞍山), Pingtung County.
DPP Chairman Su Tseng-chang (蘇貞昌) said that Ma should not be touring facilities about which the public are voicing their discontent and asking for the fourth of its kind to be discontinued, but should instead be focusing on the development of green energy.
The way Ma's inspection tour was designed is very disappointing and shows that Ma's mindset is "antiquated," and that he is unwilling to consider replacing nuclear power with green energy, Su said.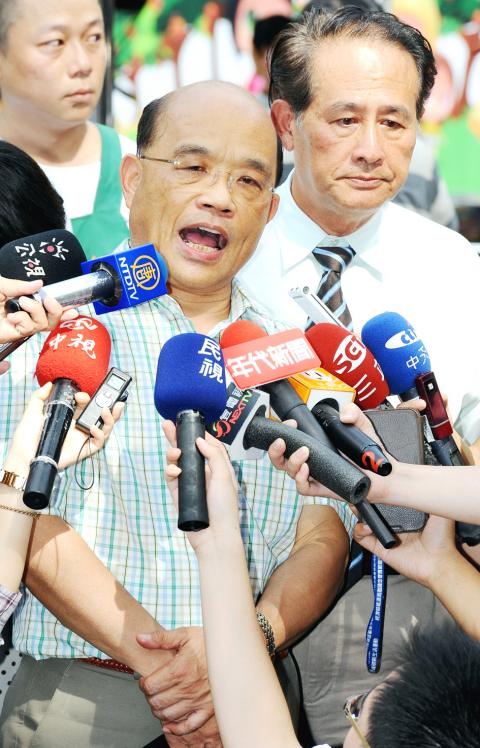 Democratic Progressive Party Chairman Su Tseng-chang, center, speaks to the press during an event in Pingtung County yesterday.
Photo: Chang Chia-ming, Taipei Times
Su complimented Pingtung County Commissioner Tsao Chi-hung's (曹啟鴻) green-energy policy and said that it was odd for Ma not to visit such a facility.
Under the policy, land flooded by seawater during Typhoon Morakot in 2009 or with very saline soil which makes it unsuitable for agriculture — primarily in Jiadong Township (佳冬), Linbian Township (林邊) and other coastal areas — is used to place solar panels that generate power which is sold to Taiwan Power Co (Taipower).
Approved by the Executive Yuan in 2010, the policy aims to give people whose sole means of income — agriculture — was disrupted by Morakot an alternative income, as well as give land in the area time to recover from salinization and subsidence.
Morakot, which battered southern Taiwan from Aug. 7 until Aug. 10, 2009, caused the most devastating flooding since 1959, as well as multiple landslides. The typhoon killed 677 people and 22 people went missing and were never found.
Su also criticized Ma for excluding Tsao from the group that went on the energy tour, saying that Tsao should have been kept in the loop because as county commissioner, he would be tasked with disaster relief if a nuclear disaster occurred.
Instead of announcing that he would stay overnight at the Ma-anshan Nuclear Power Plant — which sounds like he was on a casual trip — Ma should instead tell people how they are to evacuate if anything happens to the nuclear power plant, Su said.
Su said that Provincial Highway No. 27 often experiences heavy traffic and Ma should tell the public what the government's contingency plans are to help people evacuate the area without getting stuck in a traffic jam.
Su also touched on environmental protection issues involving nuclear power plants, specifically referring to coral bleaching, which is caused by hot water pumped from nuclear power plants heating up the seawater in which coral grows.
Ma should tell the public how hot the water pumped out of the plants is and what the maximum heat is that coral can handle before bleaching occurs, Su said.
Meanwhile, when asked about the passage of an amendment to Article 99, Section 1 of the Accounting Act (會計法) on Friday — allegedly to allow former independent legislator Yen Ching-piao (顏清標) to have his sentence reduced — Su said he respected the Legislative Yuan and its way of operation.
Yen was sentenced on Nov. 28 last year to three-and-a-half years in prison for misuse of public funds — spending council money at hostess bars and KTV lounges — during his term as Taichung County Council speaker, but he may be released from jail under the amendment.
National Taiwan University Hospital physician Ko Wen-je (柯文哲), who is under investigation for allegedly misusing receipts to claim reimbursements from the National Science Council, and several hundred other college professors facing similar allegations, would also be cleared under the amendment.
When asked whether Ko would be nominated to represent the DPP and campaign for Taipei City mayor, Su said that the party would follow its own system for candidate nominations.
Comments will be moderated. Keep comments relevant to the article. Remarks containing abusive and obscene language, personal attacks of any kind or promotion will be removed and the user banned. Final decision will be at the discretion of the Taipei Times.