Nuclear referendum question protested
More than 200 people protested in front of the Legislative Yuan in Taipei yesterday morning against the question proposed by Chinese Nationalist Party (KMT) legislators for a referendum to decide the fate of the Fourth Nuclear Power Plant in New Taipei City's (新北市) Gongliao District (貢寮).
Chanting "pro-nuclear legislators are distorting the referendum, conforming to the political party and acting against the public will" and "holding a bird-cage referendum is fake democracy," the protesters tied yellow ribbons that read "Terminate the Fourth Nuclear Power Plant and reject dangerous nuclear power" on the fence of the Legislative Yuan.
A referendum proposal, co-sponsored by 32 KMT lawmakers and led by Lee Ching-hua (李慶華), framed the question as "Do you agree that the construction of the Fourth Nuclear Power Plant should be halted and that it not become operational (你是否同意核四廠停止興建不得運轉)?"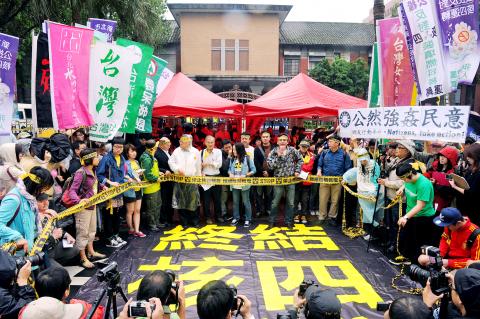 Members of the Green Citizens' Action Alliance demand that the construction of the Fourth Nuclear Power Plant in Gongliao District, New Taipei City be discontinued without a referendum, outside the Legislative Yuan in Taipei yesterday.
Photo: CNA
"The referendum question should be phrased to reflect the stance of those who posed it, meaning that since the KMT and the Cabinet are in support of the construction, the question should be 'do you agree to continue the nuclear plant construction project?'" Green Citizen Action Alliance deputy secretary-general Hung Shen-han (洪申翰) said.
"The referendum should be held for the public to verify the government's policy, but now it is using the opposing side's opinion of 'halting the construction' as a question for referendum, which is violating the principle of responsible politics," he added.
Among the protesters were film directors Wang Shau-di (王小棣), Cheng Yu-chieh (鄭有傑) and Ko I-Chen (柯一正).
Wang said she did not trust the government because it did badly on basic issues and that "the government did not even do a good job ensuring the basic safety of the nuclear power plants and spent nuclear fuel, nor did it answered to the public on these basic issues."
"The government never communicated with the public and has no direction for the future," she added.
Handing out papers with pro-nuclear legislators' office phone numbers on them and urging the public to call them to voice their anger, the protesters urged the legislators not to obey the political party's orders, but to listen to the public.
Comments will be moderated. Keep comments relevant to the article. Remarks containing abusive and obscene language, personal attacks of any kind or promotion will be removed and the user banned. Final decision will be at the discretion of the Taipei Times.