FEATURE: Designer's political graphics make splash
'DEVISING INTO POLITICS': Designer Chang Chin-sheng has become a sensation on the Web by using representations of Chinese characters to skewer politicians
Creative works of a young art designer, who produces new visual representations of Chinese characters combined with political messages, have recently become a sensation among the nation's netizens.
"Some people write diaries, some paint pictures, while others record events with cameras. Since I am a commercial art designer, I want to use my design skills to express my views on issues and events that I feel strongly about," said Chang Chin-sheng (張金昇), a graduate student at National Taiwan University of Arts' Department of Visual Communication Design.
Five years ago, Chang began his creative product series, dubbed Devising Into Politics (設入政治), which upends the traditional look of Han Chinese characters by transforming their images in black on a red background.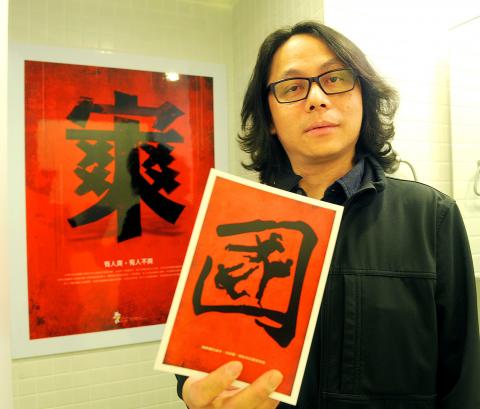 Chang Chin-sheng holds up one of his works on Feb 22.
Photo: Fang Pin-chao, Taipei Times
His first work was Tibet Taiwan, with the two enlarged capital T's the focus of the image.
"Tibetans are fighting for their independence, but Communist China is oppressing them severely. The sad plight of their struggle moved me deeply. Also, China wants to suppress Taiwan. Thus the first work I created was born," he said.
Chang added that all his works come from what he sees and feels during the course of his daily life.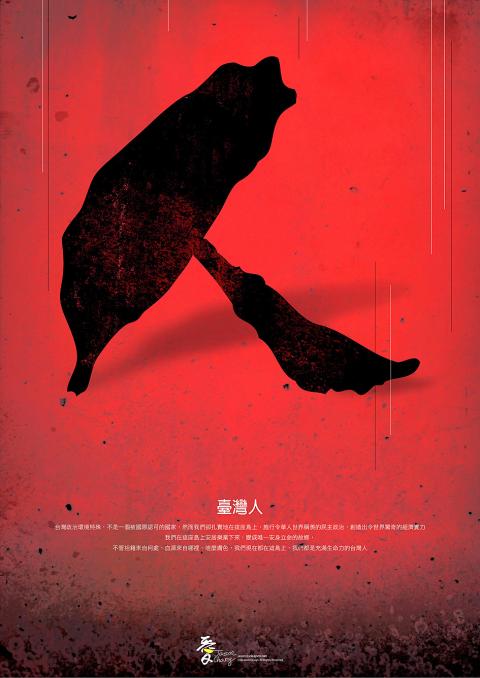 A work by Chang Chin-sheng, a graduate student at National Taiwan University of Arts' Department of Visual Communication Design, is pictured in an undated photograph.
Photo provided courtesy of Chang Chin-sheng
For instance, he said he was angry when Taiwanese taekwondo athlete Yang Shu-chun (楊淑君) was controversially disqualified at the 2010 Asian Games in Guangzhou, China, and this inspired another piece.
"That incident really upset me. Our government could not protect our athletes. They are part of the national team, but are not representing a real country and so they are always bullied by others at international sports events. After I chose the word 'Nation' (國), I searched for images of athletes in action to create that production," Chang said.
His works may look simple, but they carry subtle, meaningful messages. The inventive alterations to Chinese characters contain humor that draw a knowing smile from viewers.
His work's barbed criticism of politicians and government is often as effective as political cartoons.
"When President Ma Ying-jeou (馬英九) was elected, he was afraid of citizens making commotions, and he used 'barbed barricades' (拒馬) — which in Mandarin can also be read as 'refuse Ma' — to surround the Presidential Office during his inauguration. A president who was elected by citizens of this country used barbed wire barricades to keep people away. It was extremely ironic," he said.
Chang grew up in New Taipei City's (新北市) Tamsui (淡水). He was the youngest child in the family, and followed his elder brothers by working at blue-collar jobs after graduating from junior high school. While working in a factory, a machine accident mutilated his left hand, leaving only one finger intact.
"For a year after the accident, I would not speak a word to anyone and totally shut myself off from the world. Later, I thought that I must go on with life, so I started off the 'new life with my right hand' then," he said.
After graduating from Taipei Senior High School with a concentration in the arts, Chang got a job in advertising and later started his own workshop.
With his wife's encouragement, he went back to school, entering university while launching his business. His friends led him to become aware and concerned with politics and national affairs, he said.
Chang said that due to his injury, he was more sensitive to social issues that matter to ordinary people.
"In Hoklo [commonly known as Taiwanese], there is a saying that goes: 'Red is beautiful, and black confers sophistication.' Red is the color that most readily arouses people's feelings," he said.
"Therefore, for my Devising Into Politics series production, I chose to express messages with black words printed on a red background. When having creative ideas, the hardest part is trying to find the appropriate styling of words. Once the right one is found, then I begin the process of creating a new image," Chang said.
Among his works is the combined graphic image of the words for the surname "Soong" (宋) and the character for "feeling pleasurable" (爽).
In last year's presidential election, Chang said People First Party Chairman James Soong (宋楚瑜) entered the race, much to the displeasure of the pan-blue camp, but to the delight of the pan-green camp, which believed Soong would split the pan-blue vote.
He said that in Hoklo, the word "Soong" and the word for "feeling pleasurable" have the same pronunciation, so he came up with the design, a print of which now hangs over the toilet at his house.
To date, his Devising Into Politics includes 70 works. They are all tinged with humor and sharp criticism to express political messages.
Chang's latest innovative design was for the anti-nuclear protest that took place yesterday nationwide.
"In the beginning, I was worried that my productions were too political and might affect my business. However, the issues I am concerned about are those that all citizens should take an active interest in. If my productions can affect the audience and strike a chord with them, then I will continue to make these design creations," he said.
Comments will be moderated. Keep comments relevant to the article. Remarks containing abusive and obscene language, personal attacks of any kind or promotion will be removed and the user banned. Final decision will be at the discretion of the Taipei Times.