Pet lovers express anger, dismay at breeding farms
DOG's BEST FRIENDS: The activists held photos of mistreated dogs in breeding farms and animal shelters, and urged the government to investigate illegal breeders
Holding yellow chrysanthemums in their hands, more than 200 pet lovers and animal welfare activists yesterday gathered in front of the Legislative Yuan in Taipei to express their disappointment and anger over the "intended distortion" by several breeding farms of a recently amended law on dog breeding management.
Huang Tai-shan (黃泰山), the initiator of the demonstration called "Why was I born if you want me to die?" and the founder of the Taiwan People's Association for Cats and Dogs, said the groups were grateful that legislators had passed an amendment to the Animal Protection Act (動物保護法) in January, stipulating that all dog births must be declared.
The law was amended to gain control over the excessive breeding of dogs at farms that often led to abandonment and more stray dogs in the streets, he said.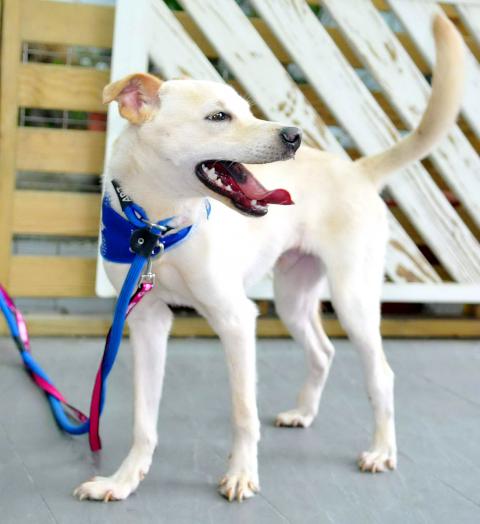 A dog saved by Animal Rescue Team Taiwan after being hit by a car is seen in Greater Taichung yesterday.
Photo: Animal Rescue Team Taiwan
However, many breeding farms have skewed the amended articles, so has to imply that "neutering is compulsory for pet dogs."
The activists said that the intention of the amendment was to reduce the number of stray dogs, which are often abandoned pets and their litters.
The amendment stipulates that all births must be reported and that local governments must provide free neutering services.
However, several breeding farms have argued that dogs have a right to reproduction and want the amended articles removed from the law.
"The breeding farms are selfish to be against a law that manages reproduction from its origins, for their own interests," Huang added.
Many demonstrators held photographs of mistreated dogs in breeding farms and animal shelters, and signs which read: "Pets are not merchandise, there is only true love through neutering" or "Breeding farms, please don't force us to breed."
The demonstrators also put a box full of ash from deceased stray dogs on the street and placed yellow chrysanthemum around it, symbolizing their mourning for the dogs that died as a result of over-reproduction and abandonment by the breeding farms.
They said many breeding farms only cared about profits and not the dogs' rights.
Many breeding farms cut the vocal cords of breeding female dogs and force them to reproduce at an unhealthy frequency, leading to genetic diseases in puppies, the activists said.
Huang urged the government to conduct strict examinations of the illegal breeders to prevent dogs being abandoned or having to be put down in shelters.
Comments will be moderated. Keep comments relevant to the article. Remarks containing abusive and obscene language, personal attacks of any kind or promotion will be removed and the user banned. Final decision will be at the discretion of the Taipei Times.