Groups emphasize links with China
DIFFERENT TAKE: A poll sponsored by pro-China groups indicated that Taiwanese strongly identify with China because of a shared kinship, language, history and culture
Following recent meetings between former Chinese Nationalist Party (KMT) chairman Lien Chan (連戰) and Chinese leaders and their joint advocacy of a "one China" policy, a Want Want China Times Group-owned polling firm yesterday called for more emphasis on Chinese national identity in media coverage.
Representatives from the polling firm, Apollo Survey and Research Co Ltd, and Taiwan Competitiveness Forum, a think tank led by academics known for their pro-unification stance, yesterday released a survey asking Taiwanese about their perception of connections with China.
Describing the results of the survey as "astonishing," they said that respondents showed a "very high degree of identification with China, Chinese and Zhonghua minzu (中華民族, Chinese ethnic group)," adding that media outlets should not make an issue of whether people in Taiwan identify themselves as Taiwanese, but should focus on Taiwanese identification with China.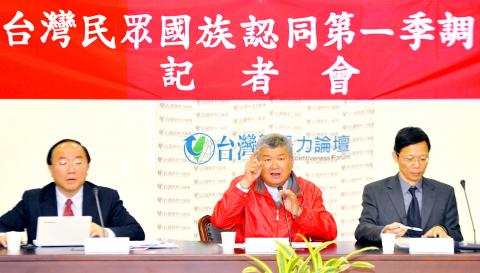 Panelists speak at an event held by the Taiwan Competitiveness Forum, a Taipei-based think tank in Taipei yesterday. According to a survey released by the organization, 90.4 percent of Taiwanese identify themselves as Chinese.
Photo: Chen Chih-chu, Taipei Times
Chiu Yuan-bao (邱源寶), an Apollo executive, said the results of the survey were in sharp contrast with those conducted by National Chengchi University's Election Study Center on behalf of the Mainland Affairs Council (MAC) over the past 20 years.
"This was the first survey of its kind, but we will continue to monitor whether there has been a major shift in national identity toward China," Chiu said.
The survey showed that 90.4 percent of respondents gave a positive answer to a question asking them if they thought they were members of Zhonghua minzu who share common kinship, language, history and culture.
Asked if they are Chinese, 61.1 percent of respondents said yes, 35.4 percent said no and 3.6 percent did not have an opinion, the survey showed.
On a question in which respondents were given four choices, 25.6 percent said they are Taiwanese and also Chinese, 12.7 percent said they are Taiwanese but could also be Chinese, 28.2 percent said they are Taiwanese but do not deny that they are also Chinese, and 29.2 percent said they are Taiwanese and are not Chinese.
Asked "how they defined 'one China' under China's assertion that Taiwan and China belong to one China and are both part of China," 31.1 percent defined "one China" as Zhonghua minzu, 21.8 percent said "one China" refers to the Republic of China (ROC), 5.3 percent said it referred it to the People's Republic of China (PRC), and 31.1 percent found the concept of "one China" unacceptable.
Meanwhile, asked "how they defined 'one China' under President Ma Ying-jeou's (馬英九) assertion that it refers to the so-called '1992 consensus,' which means 'one China, with each side having its own interpretation,'" 34 percent defined "one China" as Zhonghua minzu, 23.7 percent said "one China" refers to the ROC, 4.7 percent said it is the PRC and 26.8 percent opposed the concept of "one China."
The survey found that 67.4 percent of respondents thought that China should be seen more as an opportunity than a threat, while 25.7 percent thought the opposite.
Among those who view China as an opportunity, 14.9 percent said Taiwan should actively engage China, while 52.2 percent said Taiwan should engage China with caution.
In the group that sees China as a threat, 18.7 percent said that Taiwan should be cautious in dealing with China, and 7.2 percent opposed engagement with China.
The survey was conducted on Wednesday and Thursday nights last week by telephone with a random sampling of 1,092 people nationwide and a margin of error of plus or minus 3 percentage points.
When the first survey about Taiwanese national identity was released by the MAC in 1992, 46.4 percent of respondents identified themselves as both Taiwanese and Chinese, 25.2 percent as Chinese and 17.6 percent as Taiwanese.
The latest MAC survey released in December showed that the percentage of respondents who said they are both Taiwanese and Chinese decreased to 38.5 percent, while those who said they are Taiwanese rose to 54.3 percent. Only 3.65 percent said they are Chinese.
More than 20 years of democratic development has made most people identify with Taiwan, said Thomas Peng (彭錦鵬), a National Taiwan University political scientist.
"There's no point in asking a person if he or she is a Taiwanese or suspecting one's loyalty to Taiwan. On the contrary, media should place more emphasis on Chinese identity, the ROC and Zhonghua minzu because the survey has found that the belief that culture and kinship ties play an undeniable role in cross-strait relations is ingrained in society," Peng said.
Comments will be moderated. Keep comments relevant to the article. Remarks containing abusive and obscene language, personal attacks of any kind or promotion will be removed and the user banned. Final decision will be at the discretion of the Taipei Times.