Young students sell secondhand books and toys for charity
Inspired by the example of vegetable vendor and philanthropist Chen Shu-chu (陳樹菊), four elementary and junior-high school students from Greater Tainan have banded together to sell secondhand books and toys to help the disadvantaged.
While most young students are spending their long-awaited winter break — which started on Friday — going out with their families and friends, first-graders Lee Cheng-yuan (李丞原) and Yeh Ho-ting (葉荷亭) from Zuojhen Junior High School and Hu Chen (胡臻) and Liu Wen-hui (劉文輝) from Kuangjung Elementary School are busy with their "philanthropic business."
On Sunday morning, the four carried a box full of secondhand toys and books and two collapsible tables on a 10km bus ride to Sinhua District (新化), where they set up a temporary stand to sell them to passers-by.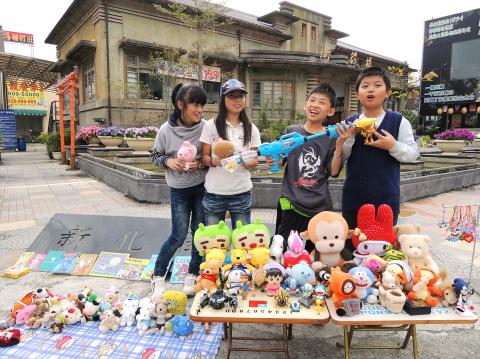 From left to right, Yeh Ho-ting, Hu Chen, Lee Cheng-yuan and Liu Wen-hui sell secondhand toys and books for charity in Greater Tainan's Sinhua District on Monday.
Photo: Liu Wan-chun, Taipei Times
"Although grandma Chen Shu-chu is not wealthy, she has managed to make donations to help out those in need. We want to be just like her," the students said.
Lee, who initiated the charity drive, said they would donate half of the profit from selling the toys and books to charities administering to disadvantaged groups and use the other half to help out with family expenses.
While Lee and Hu also come from disadvantaged households, this has not stopped them from attending to the needs of others.
Lee has made a habit of donating uniform invoices to charity organizations, while Hu crafts hanging ornaments, which she sells close to her school.
Lee said he was inspired by a question raised by his home economics instructor last year of what they wanted to do in the future.
"The question made me think of the physically challenged people living in healthcare centers near my neighborhood and the damaged courtyard at my classmate's home that has never been repaired," Lee said. "So I answered that I wanted to sell my toys to help impoverished people."
Lee's proposal was supported by his father, who cautioned him to be home by 2pm, and motivated the other three to join his plan.
To prepare for their first "working day" on Sunday, the four meticulously cleaned the toys that they were preparing to sell.
Although they only earned NT$260 on the first day, they were able to top that amount as of 10am the next day.
"We believe that the longer we do this, the more people will purchase the toys," Lee said, adding that they will be open every day except when they have to attend school activities.
Comments will be moderated. Keep comments relevant to the article. Remarks containing abusive and obscene language, personal attacks of any kind or promotion will be removed and the user banned. Final decision will be at the discretion of the Taipei Times.