Historians document life of 'Father Tan'
Researchers at Academia Sinica's Institute of Taiwan History say they are recording the oral history and life experiences of Frank Dennis, an 84-year-old US doctor who served the people of Taitung County for 33 years, from 1961 to 1994, as head of the Taitung Christian Hospital.
Although he has a Chinese name, Tan Wei-yi (譚維義), Dennis is affectionately known as "Father Tan" (譚爸爸) to nearly everyone in Taitung, county residents told researchers.
Born in Kansas, Dennis said he was often ill as a child and came down with pneumonia when he was a second-grader, which saw him hospitalized for two weeks.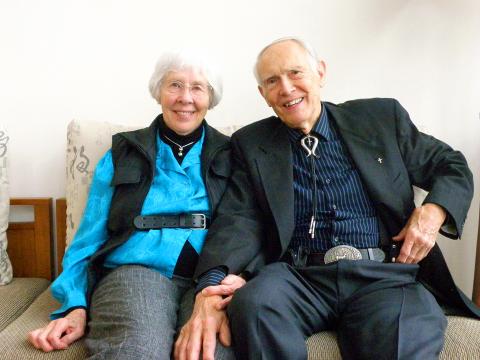 Frank Dennis, right, poses with his wife, Sally, on Nov. 21 last year. Researchers at Academia Sinica's Institute of Taiwan History are researching the experiences of the US doctor, who served as head of the Taitung Christian Hospital from 1961 to 1994.
Photo: Tang Chia-ling, Taipei Times
Dennis was sent to Taiwan in 1961 by the US Evangelical Alliance Mission, accompanied by his wife, Sally, and their four young children. He said he was initially slated to go to Africa for his overseas church mission to provide medical and missionary services, but he changed his mind and came to Taiwan after the mission received a letter from Taitung with an urgent request for doctors.
He and his wife provided medical care in Taitung's coastal regions and later founded the Logefeil Memorial Hospital in Taitung City, which is now known as the Taitung Christian Hospital.
Dennis said he was a "one-person medical team" for his first six years in Taitung, examining patients, performing surgery, providing emergency services and round-the-clock patient care, as well as other duties.
Huang Ho-mei (黃和美), a retired pharmacist who worked at the Taitung Christian Hospital, recalled that on one occasion a woman needed emergency treatment while a typhoon was raging because she went into labor, but had difficulty giving birth.
"Father Tan received the phone call at night. He rode his motorcycle to the hospital, braving the heavy rain and strong wind, and performed the necessary surgery. He saved the lives of both the woman and the baby," Huang said.
In the 1960s, polio struck many children in Taitung. Dennis performed surgery on them and an estimated 300 children under his care recovered.
Lu Li-han (呂立漢), head of Christian Care for Children at Risk in Taitung, said that "in [Dennis'] younger days, he walked fast, like a howling wind. He was like a cowboy, always full of energy."
"Once we performed a surgery for several hours and everyone was tired, but he still had the energy to jog all the way home," he added.
According to Lu, back in those days Taiwan did not have adequate supplies of medical equipment. Dennis would bring back supplies when he visited the US, like bone screws for fixing bone fractures.
"The screws were often still stained with blood. We would clean them, and trim and reconfigure them to match Taiwanese physiques," Lu said.
"That was how we built up the hospital. Bit by bit, item by item, and by repairing old machines for us to use," he added.
Dennis is now in retirement and enjoys his leisure time, which he said he spends on cooking, gardening and pursuing his other interests.
"When I see those former young patients in Taitung who have grown into adults, many with good jobs, married and kids of their own, I feel satisfied and get a joyous feeling in my heart that is hard to put into words," he said.
Comments will be moderated. Keep comments relevant to the article. Remarks containing abusive and obscene language, personal attacks of any kind or promotion will be removed and the user banned. Final decision will be at the discretion of the Taipei Times.