KMT to support new media rules
Days before the Democratic Progressive Party's (DPP) planned rally to highlight the issue of media monopolization, Chinese Nationalist Party (KMT) caucus whip Wu Yu-sheng (吳育昇) said yesterday that his caucus would support legislation to address the problem.
Wu told a press conference that the KMT caucus would agree to amendments to the Radio and Television Act (廣播電視法), the Cable Television Act (有線電視法) and the Satellite Broadcasting Act (衛星廣播電視法) proposed by DPP Legislator Yeh Yi-jin (葉宜津) to prevent media monopolies.
Wu's comment marked a sharp change from the caucus' previous position.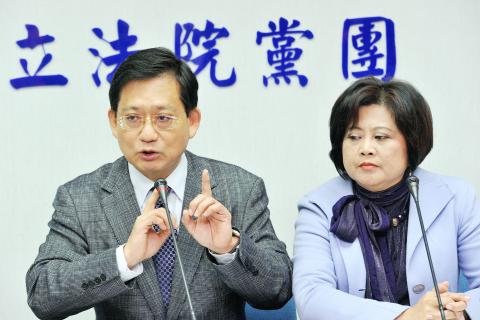 Chinese Nationalist Party (KMT) legislators Wu Yu-sheng, left, and Chiang Huei-chen tell reporters at the legislature in Taipei yesterday that the KMT caucus supports legal amendments proposed by Democratic Progressive Party Legislator Yeh Yi-jin to prevent the emergence of media monopolies.
Photo: Chien Jung-fong, Taipei Times
Public concern about media monopolization has risen after the acquisition of Hong Kong-based Next Media's four outlets in Taiwan by a consortium that includes the son of pro-China tycoon Tsai Eng-meng (蔡衍明), chairman of the Want Want China Times Group.
The acquisition still has to be approved by the Fair Trade Commission and the National Communications Commission.
The KMT caucus has previously refused to sign a petition by students and civic activists in support of legislation to guard against media monopolies, and boycotted legislative reviews of the amendments proposed by Yeh.
The amendments include a regulation that the number of channels owned by media operators and their related enterprises cannot account for more than one-tenth of all channels.
Wu said the KMT would also support the DPP's proposal on regulations governing the electronic media and it would suggest that the print media also be covered by anti-media monopolization regulations.
Unlike the DPP, which he said had only focused on the sale of Next Media to the Want Want Group, the KMT opposes all media-monopolization cases, Wu said.
Wu said the caucus had refrained from commenting on the issue before, because it did not want to interfere in the Next Media acquisition.
The three amendments are to be reviewed at the legislature's Transportation Committee today, with representatives from the Fair Trade Commission attending.
Comments will be moderated. Keep comments relevant to the article. Remarks containing abusive and obscene language, personal attacks of any kind or promotion will be removed and the user banned. Final decision will be at the discretion of the Taipei Times.