Survey suggests certain eggs may be dangerous
A survey of 20 types of eggs sold in stores showed that one type purchased from a supermarket contained florfenicol, which can have negative effects on the liver and kidneys if consumed in large quantities, the Consumers' Foundation said yesterday.
To cater to the high demand for eggs, many chicken farms choose to keep their hens in battery cages to save space, the foundation said, adding that when large numbers of hens are kept in a small space, the possibility of cross infections increases.
As such, farmers sometimes choose to add drugs to chickenfeed to prevent diseases and in some cases eggs from these hens become contaminated with drug residues, the foundation said.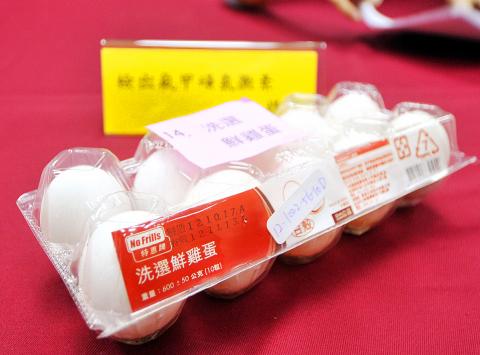 Eggs purchased from a Wellcome supermarket that were found to contain florfenicol are displayed at a press conference held by the Consumers' Foundation in Taipei yesterday. Wellcome has removed all such eggs from its shelves.
Photo: Chen Chih-chu, Taipei Times
In addition to drugs residues, the foundation said microbial egg contamination — such as salmonella infection — is another problem that needs to be examined, so its survey also tested the eggs for salmonella and selenium levels as well as several types of drug residues.
The results showed that one type of eggs contained florfenicol, a type of antibiotic used for the treatment of bovine respiratory disease, which may harm humans and is banned under the Act Governing Food Sanitation (食品衛生管理法).
According to the act, the company responsible should inform consumers and have the contaminated products recalled and destroyed, the foundation said.
If they fail to do so, they may face a fine between NT$60,000 (US$2,000) and NT$6 million based on the damages caused, the foundation said, adding that the Department of Health should look into the case.
Results for salmonella infections and other drug residues were all found to be within regulated standards, it said.
The foundation said that although salmonella infection was not discovered in the sampled eggs, consumers should still be aware that egg shells can become contaminated during storage.
Consumers should be careful when choosing eggs and check whether there are cracks in the shell and avoid eating the egg if the yolk contains parts of the chicken, it said, adding that fresh eggs are often heavier and have a thicker shell.
Comments will be moderated. Keep comments relevant to the article. Remarks containing abusive and obscene language, personal attacks of any kind or promotion will be removed and the user banned. Final decision will be at the discretion of the Taipei Times.