Deer linked to extinct cousins
'ABORIGINAL' ANIMAL: A researcher compared the genetic material of the deer in Kinmen to genes from an ancient tooth, and found that it was almost identical
Formosan sika deer (Cervus nippon taioanus) raised in captivity at the Kinmen Livestock Research Institute may be the most genetically similar yet to their extinct wild cousins, National Taiwan University researcher Ju Yu-ten (朱有田) said.
The Kinmen Livestock Research Institute commissioned Ju, an associate professor at the university's Department of Animal Science and Technology, to conduct research on the institute's Formosan sika deer breeding program as part of an effort to promote tourism to the island chain and set a good example of environmental conservation.
Presenting his findings on Friday, Ju said that compared with the deer raised at Kenting National Park, the animals bred in Kinmen had a "purer" genetic makeup that showed a continuity with the genetic structure of the original wild Formosan sika deer.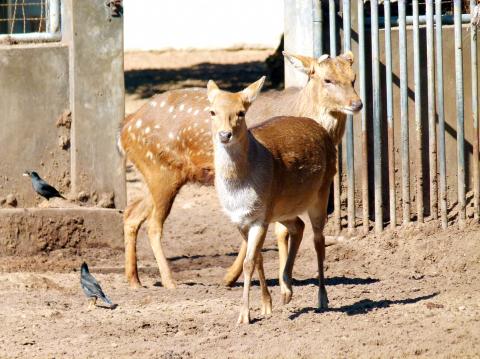 Formosan sika deer wander at the Kinmen Livestock Research Institute on Friday.
Photo: CNA
Ju said that he had arrived at this conclusion after comparing the genetic material of the deer raised in Kinmen and Kenting with material gleaned from the tooth of a Formosan sika deer unearthed at an archeological dig.
The Formosan sika deer is a subspecies endemic to Taiwan, but all wild Formosan sika are extinct due to extensive hunting of the animal during the era of Dutch colonization and during the modernization undertaken by the Japanese colonial government, Ju said. All surviving specimens of the Formosan subspecies have been raised in captivity and then introduced into the wild, he added.
Ju said that the current stock of deer raised in captivity were not genetically pure, because those that were genetically closest to the wild Formosan sika deer — which were raised at the Taipei Zoo in the 1980s — had to be put down en masse after the group was infected with tuberculosis.
Kenting and Kinmen both received deer from Taipei Zoo prior to the outbreak, but while Kenting National Park introduced other subspecies of deer to its population, the Kinmen Livestock Research Institute kept its Formosan sika deer separate from others.
This separation, coupled with the geographic isolation of Kinmen, has made inter-breeding with other species nearly impossible, which is what has made the Kinmen sika deer the most "Aboriginal" of their kind, Ju said.
Meanwhile, institute director Wen Shuei-cheng (文水成) said that the facility has also developed a drink made from the deer's antlers. Wen said the insitute aimed to use the drink in addition to the deer program to promote tourism to Kinmen.
Comments will be moderated. Keep comments relevant to the article. Remarks containing abusive and obscene language, personal attacks of any kind or promotion will be removed and the user banned. Final decision will be at the discretion of the Taipei Times.