Watchdog lauds progress in Chen Chao-min case
WRONGFUL DEATH: The Judicial Reform Foundation said the defense ministry has exerted more effort in demanding compensation from the ex-defense chief
A judicial reform association yesterday said the Ministry of National Defense had made progress in pursuing charges against former minister of national defense Chen Chao-min (陳肇敏) and five others who were implicated in the wrongful execution of airman Chiang Kuo-ching (江國慶) 15 years ago.
The Judicial Reform Foundation had expressed its doubts about the ministry's commitment after the first hearing at the Taipei District Court in September, saying the ministry had been "passive" in pursuing the case, adding that if it did not proceed with the civil lawsuit, taxpayers would end up footing the bill for the compensation to Chiang's family.
The ministry is seeking NT$14.75 million (US$500,000) in total compensation from the six.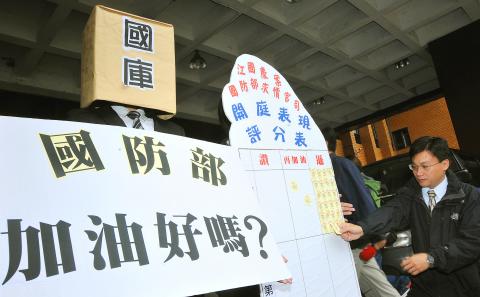 Members of the Judicial Reform Foundation stage a protest in front of the Taipei District Court yesterday, calling on the Ministry of National Defense to make a greater effort in the ongoing case against former minister of defense Chen Chao-min.
Photo: Liu Hsin-de, Taipei Times
During the second hearing at the Taipei District Court yesterday morning, Colonel Chen Chao-yun (陳招雲), head of the Northern Military District Court, represented the ministry.
Judicial Reform Foundation executive director Lin Feng-cheng (林峰正), who audited the process, said after the hearing that while the ministry's representatives had made some progress in the lawsuit, there was still a lot of room for improvement.
Chiang was convicted of raping and killing a five-year-old girl at Air Force Combat Command in Taipei in 1996 and was executed a year later at the age of 21. Chen Chao-min was the chief of Air Force Combat Command at the time of Chiang's conviction.
However, in September last year, Chiang's conviction and execution were determined to have rested on a coerced confession, with at least six officials found to have tortured him.
The following month, the Northern Military District Court awarded NT$103 million in compensation to Chiang's mother, Wang Tsai-lien (王彩蓮).
The military court had concluded that the six officials committed major mistakes in the case.
The ministry filed a lawsuit after the six refused to reimburse the court for the compensation awarded to the victim's family.
Comments will be moderated. Keep comments relevant to the article. Remarks containing abusive and obscene language, personal attacks of any kind or promotion will be removed and the user banned. Final decision will be at the discretion of the Taipei Times.