Su, Hsieh push for DPP China affairs department
Democratic Progressive Party (DPP) Chairman Su Tseng-chang (蘇貞昌) yesterday said he would submit a proposal for the establishment of a DPP China affairs department at a party meeting on Wednesday, but party heavyweights said the DPP should solidify its cross-strait position before the department is set up.
Former premier Frank Hsieh (謝長廷) told reporters in Taipei yesterday that he and Su both think it is the right time to set up the department since the Chinese Communist Party has concluded its18th Party Congress and ushered in its new leadership.
However, Hsieh said he expected the DPP to form a clear position on cross-strait relations before the proposed body becomes operational.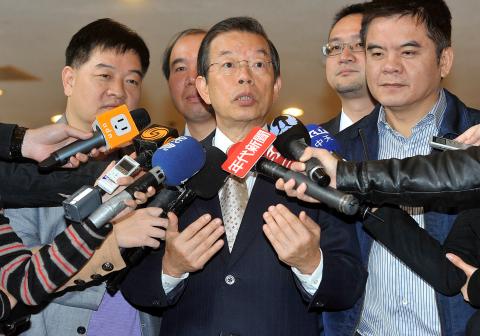 Former premier Frank Hsieh talks to the press in Taipei yesterday, saying that he and Democratic Progressive Party Chairman Su Tseng-chang both think the party should set up a China affairs department.
Photo: Chien Jung-fong, Taipei Times
The party plans to deal with the motion to establish the department at its Central Standing Committee meeting on Wednesday.
Hsieh said the validity of his "constitutional one China" (憲法一中) framework and how the party interprets its 1999 resolution on Taiwan's future should be discussed in the meeting.
The former premier added that the "one China" in his framework is the Republic of China (ROC).
He said the party's 1999 resolution on Taiwan's future stipulates that the DPP unilaterally opposes the "one China" principle championed by Beijing, but at the same time recognizes the ROC.
Those interpretations need to be further be integrated and a consensus on the DPP's cross-strait position formed, he added.
Asked whether he had been told by Su to lead the proposed department, Hsieh said Su had not discussed the issue with him.
Meanwhile, Alex Huang (黃重諺), a spokesman for former DPP chairperson Tsai Ing-wen's (蔡英文) office, said that Tsai agreed with Hsieh and Su the party should integrate the opinions of its members on Taiwan-China relations before the department is established.
DPP spokesperson Wang Min-sheng (王閔生) said the department would surely invite Hsieh and Tsai to join its operations, but Su has not formally invited anyone to lead the department.
Comments will be moderated. Keep comments relevant to the article. Remarks containing abusive and obscene language, personal attacks of any kind or promotion will be removed and the user banned. Final decision will be at the discretion of the Taipei Times.