Master Hsing Yun says China owns Diaoyutais
BODHICITTA: Hsing Yun said that all Chinese who loved their nation had a duty to protect the islands, and stressed that both sides of the Strait are one
The Diaoyutai Islands (釣魚台) belong to China and all Chinese who love their country have the responsibility to safeguard them, Master Hsing Yun (星雲法師), founder of the Fo Guang Shan Monastery, said yesterday.
Hsing Yun made the remarks during a visit by Association for Relations Across the Taiwan Straits Chairman Chen Yunlin (陳雲林), who is leading a Chinese cultural exchange delegation in Taiwan.
Commenting on the recent row over the Diaoyutais, Hsing Yun said that both sides of the Taiwan Strait should work together on the issue.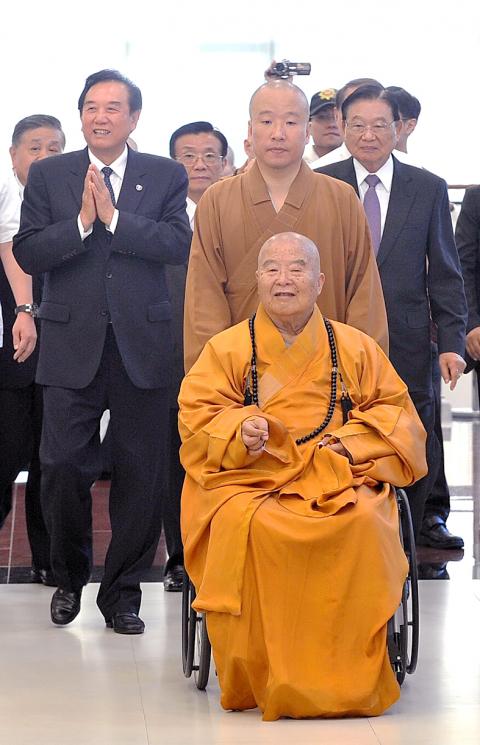 Master Hsing Yun, in the wheelchair, welcomes Straits Exchange Foundation Chairman Chiang Pin-kung, right, and Association for Relations Across the Taiwan Straits Chairman Chen Yunlin, left, to the Fo Guang Shan Buddha Memorial Center in Greater Kaohsiung yesterday.
Photo: Huang Chih-yuan, Taipei Times
Hsing Yun said that religion has played a great role in furthering cross-strait ties and since "Taiwan is also a part of China" and both sides of the Strait are one, temples in China should not prohibit Taiwanese monks from becoming the heads of temples.
Praising Hsing Yun for his "patriotic sentiment," Chen talked about the contributions Hsing Yun had made to cross-strait relations.
Chen said that when he was heading the Taiwan Affairs Office in 2000, cross-strait relations were very tense and if it was not for Hsing Yun's call to allow Chinese tourists to come to Taiwan, relations between the two sides would not have be what they are today.
"Compassion is boundless," Chen said, adding that with cross-strait relations developing peacefully under the watch of those who have touched upon the bodhicitta concept, "how far can we be from achieving our ideal goal?"
Bodhicitta is the attainment or will to attain the state in which a person has spontaneous and limitless compassion for all sentient beings.
Comments will be moderated. Keep comments relevant to the article. Remarks containing abusive and obscene language, personal attacks of any kind or promotion will be removed and the user banned. Final decision will be at the discretion of the Taipei Times.