Most strays die in shelters: activists
More than 1.25 million stray animals have been caught and put into public animal shelters during the past 13 years, but as much as 82 percent of them have been put to death or died in the shelters because of insufficient regulations, animal rights activists said at a demonstration in Taipei yesterday.
"Please help us, we are dying as victims of injustice," shouted two activists in costumes, mimicking a cat and a dog, crawling on their knees and eventually lying flat on the ground, symbolizing the mistreatment of stray animals in animal shelters.
The Life Conservationist Association's Monitoring Committee for Animal Protection executive director Ho Tsung-hsun (何宗勳) said according to statistics from animal shelters, at least 1,253,138 stray animals have been put into public animal shelters in the past 13 years, but the majority of them have died in these "cities of innocent deaths."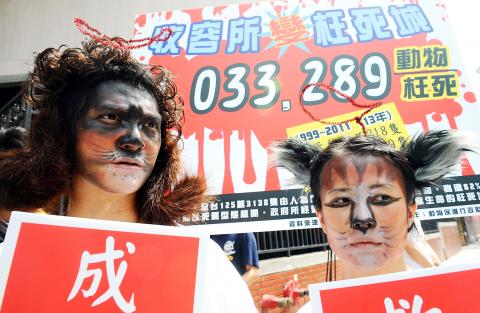 Members of the Life Conservationist Association's Monitoring Committee for Animal Protection protest in Taipei yesterday against the high number of stray animals that die in public animal shelters.
Photo: Chang Chia-ming, Taipei Times
The insufficient regulations based on the Animal Protection Act (動物保護法) of 1998 have led to the innocent deaths of many stray animals, Ho said.
"People can randomly report an animal they see on the streets and the government will go capture it … which has led to many misreported cases and caused tragedies to the reported pets," he said.
The activists made a list of the local public animal shelters with the most animal deaths between 2008 and last year, in which New Taipei City (新北市) ranked first with 68,766 animals in its care, of which 51,133 animals died. Of these, 36,703 animals were put to death and 14,430 died in the shelter.
The government spends about NT$200 million a year on taking the lives of tens of thousands of stray animals, but trying to solve the problem of stray animals by only using up euthanasia budgets every year is not effective, Animals Taiwan executive director Peter Pan (潘樹渝) said, adding that methods involving community efforts should be applied.
The activists urged that loopholes in existing regulations be amended and that the public administrations in charge of animal protection should be monitored by the people. This would ensure that several goals are achieved, such as raising the number of animal captures, expanding lifetime sheltering programs and promoting neutering of pets.
Comments will be moderated. Keep comments relevant to the article. Remarks containing abusive and obscene language, personal attacks of any kind or promotion will be removed and the user banned. Final decision will be at the discretion of the Taipei Times.