Anti-nuclear show draws huge crowd
POWER CHORDS: The event was held at a place popular for its live music events in an effort by the organizers to reach a wider audience on the dangers of nuclear power
Hundreds of music fans packed a "live house" in Taipei yesterday where an anti-nuclear concert was staged and performed by individual musicians and mainstream rock bands in support of a nuclear-free Taiwan.
The music event, titled "Nuclear Power, Go Zero," was organized by live music house The Wall and the Green Citizen Action Alliance (GCAA). Brief lectures on issues relating to nuclear power were given in between performances to spread the organizers' anti-nuclear message.
Among the performers of the night were Taiwan's punk pioneers Loh Tsui Kweh Commune (濁水溪公社), Hakka hip-hop troupe Kou Chou Ching (拷秋勤), Hakka folk singer Lin Sheng-xiang (林生祥), Brit-rock band 1976 and singer Cheer Chen (陳綺貞).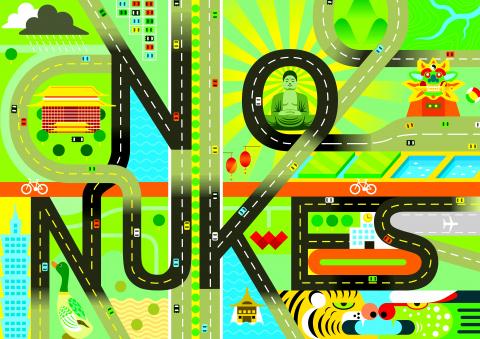 An anti-nuclear energy protest poster created by illustrator Wu Shih-mao is seen at an exhibition at The Wall music house in Taipei yesterday.
Photo provided by Petit Deer Cinema
"All the artists agreed to perform free of charge when we approached them with the concept," said The Wall's executive director, Orbis Fu (傅鉛文). "This concert is just the beginning. Everyone just did what they could, hoping to spread the anti-nuclear energy message to more people."
Previous anti-nuclear energy concerts were attended mostly by activists or locals who already cared about the issue, so this concert was about trying to reach out to more young people who did not care or know much about nuclear power, by holding the event at an established venue for independent music lovers, GCAA secretary-general Tsuei Su-hsin (崔愫欣) said.
"We hope young people can understand the facts about nuclear power, start thinking about what they can do to stop it and how to live without it," she said, adding that achieving zero-growth in electricity demand is as important as abolishing nuclear power.
"Society is now living in a period of fury," music critic Chang Tieh-chih (張鐵志) said, adding that a growing number of musicians are standing up to express their opinions toward public issues, such as in the controversial cases of the Miramar Resort Village construction project in Taitung County and the bid by Want Want China Times Group to acquire cable TV services that sparked concern about a media monopoly.
"They [the musicians] have become aware that if they don't do something now, it might be too late," he said, adding that another rock music event with an anti-nuclear power theme will be held next month.
Yesterday's event also incorporated an anti-nuclear poster exhibit in the hallway at The Wall, displaying works from nearly 60 artists.
Showing his poster of a boy wearing boxing gloves with the words "love" and "hope" written on them and a house under his fists, a graphic designer who goes by the pseudonym 57 (吳騏) said: "Many people don't care about the risks of nuclear power because the issue seems distant from their daily lives, but if they understand more about it and link it to the idea of protecting the family they love, they will fight to stop it."
Comments will be moderated. Keep comments relevant to the article. Remarks containing abusive and obscene language, personal attacks of any kind or promotion will be removed and the user banned. Final decision will be at the discretion of the Taipei Times.