Ko Wen-che is impeached for HIV organ transplants
The Control Yuan has decided to impeach Ko Wen-che (柯文哲), the former head of National Taiwan University Hospital's organ transplant task force, because the hospital used HIV-infected organs in four transplants last year. The Control Yuan passed a motion submitted by members Teresa Yin (尹祚芊) and Li Ful-dien (李復甸) to impeach Ko for dereliction of duty by an 8-2 vote, but it remains unclear if the move will have any tangible effect on Ko's job.
"It doesn't matter," Ko said in response to the Control Yuan's ruling.
The hospital accidentally transplanted HIV-positive organs from a Hsinchu man into four patients in August last year. A fifth organ from the man was used in an organ transplant at National Cheng Kung University Hospital in Tainan.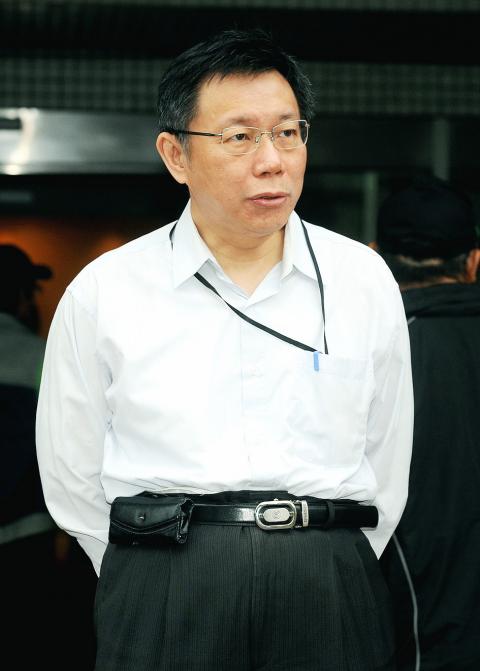 Ko Wen-che is pictured on May 23 in Taipei.
Photo: Lin Cheng-kung, Taipei Times
As a doctor at a public hospital, Ko is subject to oversight by the Control Yuan, the government branch responsible for investigating and censuring irregular or illicit behavior by public servants and government agencies. The report said Ko neglected his duties by entrusting staff and organ donation coordinators who were not doctors with the responsibility of writing physician orders and interpreting examination reports, which violated the Physicians Act ( 醫師法). Ko neglected to review the organ donation examination results and did not follow the hospital's normal specimen test regulations, the report added.
The Control Yuan also held Ko responsible for neglecting the training, supervision and evaluation of organ donation coordinators and for authorizing less-experienced coordinators to help with preparations before the transplant operations.
The physician's negligence not only seriously damaged the health of organ recipients and medical staff engaged in the operations, it also greatly damaged the hospital's reputation and Taiwan's image, the report said.
Hospital spokesman Tan Ching-ting (譚慶鼎) said the hospital would respond after it had received and reviewed the report.
Comments will be moderated. Keep comments relevant to the article. Remarks containing abusive and obscene language, personal attacks of any kind or promotion will be removed and the user banned. Final decision will be at the discretion of the Taipei Times.