Minister silent on Tiananmen massacre
LOST FOR WORDS: Cabinet member and essayist Lung Ying-tai, who once called the crackdown an 'open and festering wound,' refused to comment on its 23rd anniversary
Minister of Culture Lung Ying-tai (龍應台) yesterday declined to make a public statement on the Tiananmen Square Massacre, saying that to do so would affect negotiations between Taiwan and China on cultural issues.
At the legislature's Education and Culture Committee session, Lung was asked by several Democratic Progressive Party (DPP) lawmakers about her views on the bloody crackdown on pro-democracy demonstrators in Beijing on the night of June 4-June 5, 1989.
"My views regarding the June Fourth Incident as a writer have been expressed in my books," said Lung, a former essayist and cultural critic known for her writings on both Taiwan's and China's systems of government.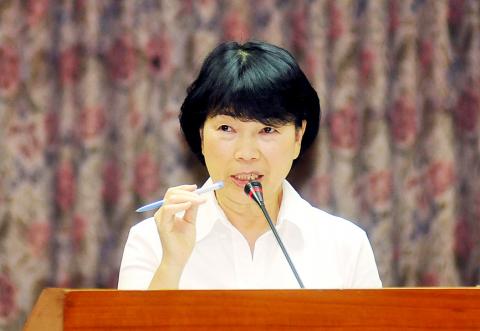 Minister of Culture Lung Ying-tai answers lawmakers' questions at the legislature in Taipei yesterday.
Photo: CNA
Lung said she "has the task" of negotiating cultural issues with China under the Economic Cooperation Framework Agreement (ECFA) that was signed in June 2010.
Lung was responding to a question put to her by DPP Legislator Lin Chia-lung (林佳龍) on whether she would attend a concert held in Taipei last night to commemorate the 23rd anniversary of the massacre.
"If I brought my personal views into cross-strait negotiations, I believe Taiwanese would be disappointed," Lung said.
Lung told the press during a break that she would withhold her views on the incident in the interests of Taiwan's publishing, film and TV industries.
In response to DPP Legislator Cheng Li-chiun's (鄭麗君) call for her to express her views on the incident, Lung said a decisionmaker, unlike a writer, needs to show prudence as well as courage.
She said her personal views could be found in an article she wrote on the 15th anniversary of the Tiananmen Incident, titled "Who is not a Tiananmen mother? Dedicated to Ding Zilin."
In the article, Lung described the massacre as an "open and festering wound on the body of a giant."
"Until the wound is healed, the giant's health will be a sham and the great future it is rushing toward will not be truly great," she wrote.
She said in the article the massacre represented the "barbaric nature of power, the loss of reason and the fall of humanity."
"Until the day it is rehabilitated, it will be carved on the forehead of the Beijing government," she wrote.
The Chinese government put the official number of deaths in the incident at 23.
However, the international media and other sources estimate that between 800 and 3,000 people lost their lives after troops and tanks fired on the hundreds of thousands of protesters in the Chinese capital.
Comments will be moderated. Keep comments relevant to the article. Remarks containing abusive and obscene language, personal attacks of any kind or promotion will be removed and the user banned. Final decision will be at the discretion of the Taipei Times.