Trip to Africa has helped to deepen understanding: Ma
President Ma Ying-jeou (馬英九) on Sunday said in Swaziland, the final stop of his 12-day trip to Africa, that his three-nation visit had helped him gain a deeper understanding of the country's diplomatic allies.
"It's been a worthwhile trip," Ma said, adding that Taiwan had forged strong friendships with its diplomatic allies during the trip.
Ma also talked about his administration's promotion of "flexible diplomacy" since he took office in 2008, saying that a diplomatic truce with China has won international recognition.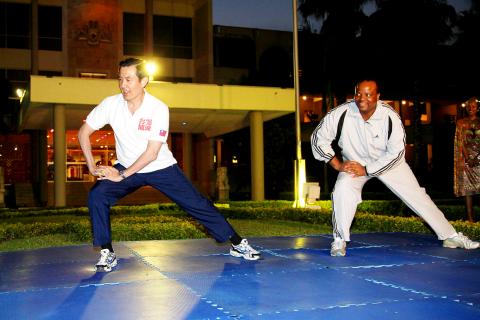 President Ma Ying-jeou, left, and Swaziland's King Mswati III warm up to prepare for a sports challenge on Sunday during Ma's state visit to Swaziland.
Photo: CNA
On the economic front, Taiwan should "conditionally provide assistance" to its diplomatic allies in Africa because their economies are still developing and need foreign aid, Ma said.
"We should try to make others feel we are an international asset rather than a liability" by contributing to international assistance programs in accordance with the norms set by the Organisation for Economic Co-operation and Development," Ma said.
Taiwan has donated 300 notebook computers worth US$300,000 to the southeast African kingdom, Ambassador to Swaziland Peter Tsai (蔡明耀) announced on Sunday.
It has also donated 1.6 million euros (US$2.1 million) to Burkina Faso to help it address problems caused by the influx of 40,000 refugees from Mali and US$3 million to The Gambia to help deal with a food crisis.
After taking part in a -penalty-kick soccer shootout in The Gambia with Gambian President Yahya Jammeh on Saturday, Ma had another sports challenge with Swazi King Mswati III, Africa's sole remaining absolute monarch, after arriving there on Sunday, in which Ma and the king both did 20 pushups and 20 sit-ups.
The president's visit was meant to solidify diplomatic ties, deepen understanding and review joint projects in medicine, agriculture, vocational education and infrastructure, the Ministry of Foreign Affairs said.
Ma is scheduled to return to Taiwan tomorrow.
Comments will be moderated. Keep comments relevant to the article. Remarks containing abusive and obscene language, personal attacks of any kind or promotion will be removed and the user banned. Final decision will be at the discretion of the Taipei Times.