Taipower misleading public: activists
ATOMIC ANGST: Environmentalists said Taipower wasted taxpayers' money promoting nuclear power and falsely claimed Taiwan would face power shortages without it
Taiwan Power Co (Taipower) released misleading information to the media and public that power rationing would have to be implemented if nuclear power plants were shut down, environmentalists said yesterday.
Saying the misinformation was a bid by the company to ensure the continuation of its nuclear projects, environmental groups said they would file a lawsuit against the state-run company for "document forgery."
The environmentalists, accompanied by legislators and academics, presented data and foreign reports on nuclear power plants and the possibility of a massive earthquake and tsunami striking Taiwan to underscore concerns that Taipower is lying or concealing the truth.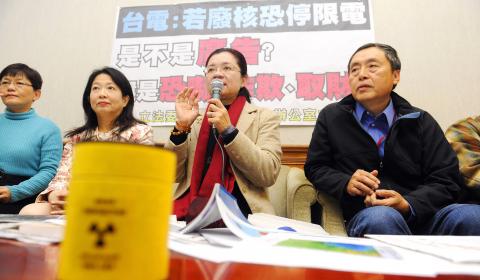 Democratic Progressive Party Legislator Tien Chiu-chin, center, National Taiwan Ocean University professor Lee Chao-shing, right, and writer Liu Li-erh, second left, speak to reporters in Taipei yesterday about a complaint they are lodging against Taiwan Power Co over its advertisements promoting nuclear power.
Photo: George Tsorng, Taipei Times
In a press release on Sunday, Taipower said the nation would likely face electricity restrictions because of insufficient reserve capacity if all its nuclear power plants were shut down, while defending the safety of its plants.
The environmentalists said Taipower had collaborated with the media to spread pro-nuclear propaganda after a Chinese-language newspaper on Monday published a full-page article about what the company has done in the past year to ensure the safety of its nuclear plants.
The article said a massive tsunami, such as the one that struck Japan's east coast on March 11 last year, was unlikely to hit Taiwan.
Green Citizen Action Alliance secretary-general Tsuei Su-hsin (崔愫欣) said it was wrong that state-run Taipower had spent taxpayers' money to promote nuclear power when thousands of people protested against nuclear power on Sunday.
"Taiwan cannot afford a single nuclear disaster," Democratic Progressive Party Legislator Tien Chiu-chin (田秋堇) said, adding that Japan is about 10 times the size of Taiwan.
If a radioactive leak occurs in Taiwan, people would have nowhere to escape, she said.
"Taipower tells us we will face power shortages without nuclear energy, but more than 20 million people in Tokyo have lived without using electricity generated by nuclear power in the past year and the city still carries on as usual," Tien said.
Based on last year's statistics, during the highest electricity consumption period in the summer, about 23.4 percent of the electricity generated in Taiwan remained unused, so there is too much reserve capacity, Tien said.
Tien added that if Taipower succeeded in persuading the public about the necessity of nuclear power, the people would have to continue paying billions of dollars on the construction of nuclear power plants.
Writer Liu Li-erh (劉黎兒), who has lived in Tokyo for many years, said that a year after the meltdown at the Fukushima Dai-ichi nuclear power plant, all but two of Japan's commercial nuclear reactors have gone offline for inspections and maintenance, while the last operating reactor is scheduled to be shut down next month, and it is not clear when the reactors will be restarted.
About 30 percent of Japan's electricity supply relies on nuclear energy, much more than the 17 percent in Taiwan, but the country still manages to function without nuclear power, Liu said, adding that part of the increase in electricity prices in Japan was due to the enormous costs of cleaning up contaminated areas after the meltdown.
Showing a graph of the tsunamis that have occurred near the Ryukyu Trench (an oceanic trench between northeastern Taiwan and southern Japan) in the past few centuries, Lee Chao-shing (李昭興), a professor of applied geosciences at National Taiwan Ocean -University, said the data suggested that a massive tsunami occurred in the area about every 150 years and that a tsunami was likely to strike Taiwan.
If a radioactive leak occurs at the two operating nuclear plants in northern Taiwan, Feitsui Reservoir (翡翠水庫) would be completely contaminated, Lee said, adding that about 7.35 million people live within a 30km radius — the likely evacuation zone — and that there is nowhere to escape to.
Taiwan Environmental Protection Union secretary-general Lee Cho-han (李卓翰) said it was irresponsible for Taipower to repeatedly tell the public that they would adopt emergency safety measures if the plants were struck by an earthquake or tsunami when they could not even answer his questions on the estimated numbers of nearby residents that would have to be evacuated and how the company would deal with contaminated food in the area.
Comments will be moderated. Keep comments relevant to the article. Remarks containing abusive and obscene language, personal attacks of any kind or promotion will be removed and the user banned. Final decision will be at the discretion of the Taipei Times.