Tsai praises late independence icons
TRIBUTE: Tsai memorialized Ng Chiau-tong, whom she described as a mentor and father figure, and Deng Nan-jung, who self-immolated when police tried to arrest him
Democratic Progressive Party Chairperson Tsai Ing-wen (蔡英文) yesterday paid tribute to two late iconic figures in the Taiwanese independence movement, saying the younger generation must remember their predecessors' struggles and remember their responsibility for Taiwan's future.
The outgoing chairperson attended a book-launch for the autobiography of former World United Formosan for Independence (WUFI) chairman Ng Chiau-tong (黃昭堂) and a photographic exhibition in memory of independence activist Deng Nan-jung (鄭南榕), in rare public appearances since losing the presidential election last month.
The exhibition is even more meaningful to the younger generation, Tsai said, because "it makes them realize how many people made sacrifices and endured hardships in the service of Taiwan's democratization over the years."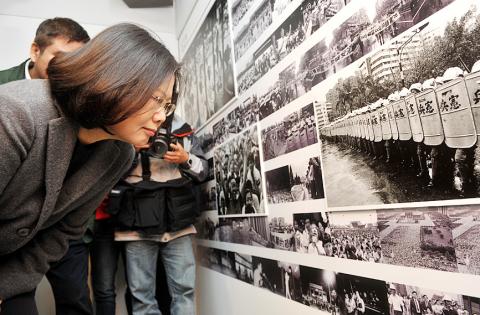 Outgoing Democratic Progressive Party Chairperson Tsai Ing-wen looks at photographs of historical demonstrations at a photographic exhibition at the Deng Nan-jung Memorial Museum in Taipei yesterday.
Photo: Chien Jung-fong, Taipei Times
"That is something Taiwan's society should always remember," she said at Deng Nan-jung Memorial Museum, which is located in an apartment in downtown Taipei.
On April 7, 1989, Deng, then-publisher of Freedom Era Weekly magazine, committed suicide by self-immolation at the age of 43, when police tried to arrest him for printing a proposal for a constitution for the Republic of Taiwan in the magazine.
The chairperson also paid respect to Deng's window, former vice premier Yeh Chu-lan (葉菊蘭), who went into politics after Deng's death.
Tsai also recognized Deng's advocacy for transitional justice for the 228 Massacre, urging the government to discover the truth and promote reconciliation, and lamenting the deaths of tens of thousands of people, which he described as a tragedy.
On the eve of the 65th anniversary of the brutal massacre in 1947, she said it was imperative for Taiwanese to understand the importance of a fair and just society in which people can live without fear.
Earlier, speaking at the book-launching ceremony, Tsai praised Ng, who died on Nov. 17 last year at the age of 79, as "a real statesman who, unlike others, never wavered in his goal."
"However, he was also a man with vision who knew how to balance his goal with reality," Tsai said of Ng, who was the first senior pro-independence politician to endorse Tsai during her presidential campaign.
Tainan-born Ng was known for his decades of dedication to the independence movement. He began participating in the independence movement while he was studying in Japan and later was placed on a Chinese Nationalist Party (KMT) government blacklist. Ng, who did not return to Taiwan until 1992, served as WUFI chairman starting in 1995 and as a presidential adviser during the DPP administration.
Tsai described Ng as someone who always kept her under his wing and nurtured her along the way.
"I felt that he would never leave, that he would always be my teacher, my father figure and one I always miss," she said.
Asked by reporters about her future after stepping down as party chairperson on March 1, Tsai said she would unveil her plans on Wednesday, when she convenes the DPP's Central Standing Committee meeting for the last time.
Comments will be moderated. Keep comments relevant to the article. Remarks containing abusive and obscene language, personal attacks of any kind or promotion will be removed and the user banned. Final decision will be at the discretion of the Taipei Times.