2012 ELECTIONS: Students protest over right to vote
Dozens of college students yesterday rallied outside National Taiwan University (NTU), calling on the government to provide assistance with transportation so they can return home to vote on Jan. 14, as election day falls in the final week of exams for many students.
Holding signs showing their school names and their home towns, such as: "I study at NTU, I have to go back to Kaohsiung to vote," "I study at National Chung Cheng University, I have to go back to Hualien to vote" and "I study at NSYSU [National Sun Yat-sen University], I have to go back to Nantou to vote," students attending universities that are far away from their hometowns protested outside the main NTU campus in Taipei.
National Chung Cheng University is in Chiayi County, while National Sun Yat-sen University is in Greater Kaohisung.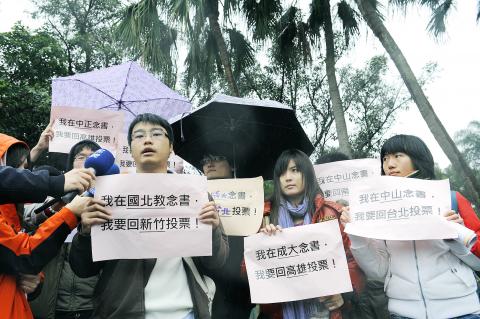 Students stage a protest outside the main gates of National Taiwan University yesterday calling for guarantees of their voting rights.
Photo: George Tsorng, Taipei Times
According to the Election and Recall Act of Public Servants (公職人員選舉罷免法), voters can only cast their ballots at designated polling centers near their registered home addresses, making it difficult for people studying or working away from home to vote.
"Setting Jan. 14 as polling day [for the presidential and legislative elections] is a decision that overlooks the rights of students studying away from their home towns to begin with because it's the final exam period for most students. Some even have to turn in their semester papers around that date," said Chen Ting-hao (陳廷豪), a student at National Taipei University of Education's department of educational management.
Few students would be willing to take their assignments or books home just to vote, he said.
Chiang Yu-hsin (江昱欣), a master's student at NTU's Graduate Institute of National Development, said he had to take a final exam on the day before the elections.
"Then, I'll have to take a late-night train or highway bus back to Kaohsiung so that I can vote the next day," he said.
"I'm lucky enough to have my final on Jan. 13, some of my friends have their finals on Jan. 14 and they just have to give up their right to vote," Chiang said.
The students urged the government to provide transportation for students who want to go home to exercise their right to vote and for the Ministry of Education to check if there are any schools that require their students to take their finals or to turn in their papers on polling day.
Comments will be moderated. Keep comments relevant to the article. Remarks containing abusive and obscene language, personal attacks of any kind or promotion will be removed and the user banned. Final decision will be at the discretion of the Taipei Times.