Pollution survey to begin soon on the Dahan River
A survey on the sources of sediment pollution in the Dahan River (大漢溪), a tributary of the Tamsui River (淡水河), will begin soon as part of the government's efforts to clean up the nation's major rivers, the Environmental Protection Administration (EPA) said.
"The Dahan is the first target because initial surveys show that its sediment has suffered the most serious heavy-metal pollution among all rivers," said Tsai Hung-teh (蔡鴻德), executive secretary of the agency's Soil and Groundwater Pollution Remediation Fund Management Board.
The new survey would focus on tracking the sources of pollution and how the pollutants are spread, Tsai said after a meeting with experts on river pollution.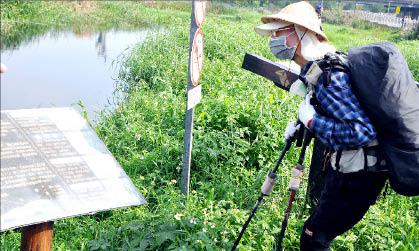 A hiker wearing a surgical mask reads a sign near the Dahan River on Monday after the New Taipei City Government announced that sediment in the river contained heavy metals and warned people not to eat plants growing nearby.
Photo: CNA
The board began looking into water and sediment pollution in major rivers in 1997 and has completed tests for heavy metals and organic pollutants in 27 rivers, Tsai said.
"It was discovered that the water and sediment of more than one-third of those rivers were seriously polluted," Tsai said, adding that the Dahan had the highest copper content in its sediment compared with other rivers.
The river also ranked among the top five in terms of zinc and nickel content levels in its sediment and water, Tsai said.
The new survey will start from the Sanying Bridge in the upper stretch of the Dahan and end at estuary six of the Tamsui River, Tsai said, adding that the Tamsui's two other branches — the Sindian and the Keelung rivers — would also be covered in the study.
"The project will cost about NT$21 million [US$697,000] and is scheduled for completion by the end of 2013," Tsai said.
Meanwhile, the New Taipei City Government reminded residents not to harvest vegetables grown on artificial wetlands along the Dahan and Tamsui rivers because such crops may contain toxic chemicals or heavy metals.
"The vegetables have been planted to help purify river water, but they are not edible because some of them may absorb toxic pollutants in the rivers water or sediment," a city official said.
Comments will be moderated. Keep comments relevant to the article. Remarks containing abusive and obscene language, personal attacks of any kind or promotion will be removed and the user banned. Final decision will be at the discretion of the Taipei Times.