Tsai touting her Hakka credentials on campaign tour
Beginning her four-day visit to Hakka-centric constituencies yesterday, Democratic Progressive Party (DPP) Chairperson Tsai Ing-wen (蔡英文) said she would be a better president than Presidential Ma Ying-jeou (馬英九) because of her Hakka background.
"I would bring the spirit of frugality, perseverance and solidarity, as well as the Hakka people's determination to safeguard their homeland, to the Presidential Office with me," Tsai said in Shihgang District (石岡), Greater Taichung, the first stop of her tour.
Highlighting her Hakka ancestry, Tsai said her campaign would like to win at least 40 percent of the vote in Miaoli County, which the DPP has never done before.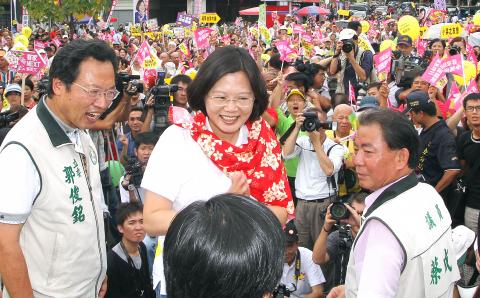 Democratic Progressive Party presidential candidate Tsai Ing-wen, center, receives a warm welcome yesterday as she gives a speech to supporters in front the Dongshih Hakka Cultural Museum in Greater Taichung's Dongshih District.
Photo: CNA
"The Hakka spirit in my blood has been calling me to take the challenge and shoulder the responsibility [of being president] like numerous Hakka women have done for the past hundreds of years, but I cannot accomplish this without your support," Tsai told supporters, who chanted the slogan: "Hakka woman for president."
Later, in speeches at Tuniou (土牛) and Dongshih (東勢) in Greater Taichung and Tongluo (銅鑼), -Miaoli County, Tsai said she would improve transportation infrastructure and promote advanced agricultural techniques in the mountainous area known for its produce, particularly fruit, if she were elected in January.
The current administration has failed to live up its expectation and pledges, she said.
Tsai added that Ma, who is seeking re-election, has failed to deliver on his promise to raise the annual income for farming households to more than NT$1 million (US$33,202) and his administration had no idea about how to halt falling fruit prices.
Ma also rejected the DPP's proposal for a NT$1,000 increase to a monthly subsidy for older farmers and settled on just NT$316 increase instead, she said.
Ma has to apologize for his unfulfilled promises as change in government is crucial, Tsai told throngs of supporters in Dongshih.
Tsai pledged to promote the protection of the languages and cultures of the nation's ethnic minority groups, including Hakka.
Miaoli County, a traditional Chinese Nationalist Party (KMT) stronghold, has historically been a difficult constituency for the DPP, said former vice premier Yeh Chu-lan (葉菊蘭), who is also of Hakka descent.
The DPP managed to garner 23 percent, 39 percent and 29 percent of the Miaoli County vote in the 2000, 2004 and 2008 presidential elections respectively, she said.
"However, we're targeting 45 percent as our goal this year, which is a high standard for us," she said.
In past elections, the majority of Hakka in northern parts of the country leaned toward the KMT.
Hakka are the second-largest ethnic group in the country behind Hoklo. According to a Council for Hakka Affairs survey, 18.1 percent of the nation's 23 million nationals, or 4.2 million people, are of Hakka descent.
Tsai will be traveling through Hakka-dominated areas of Taoyuan, Hsinchu and Miaoli to drum up support for her presidential campaign after successful visits on the west coast and the east coast boosted her support rate according to some sources.
Comments will be moderated. Keep comments relevant to the article. Remarks containing abusive and obscene language, personal attacks of any kind or promotion will be removed and the user banned. Final decision will be at the discretion of the Taipei Times.