2012 ELECTIONS: Tsai in the lead, Brain Trust poll says
DRIVER'S SEAT: The think tank said that the results of its survey were the best ever for a DPP presidential candidate, but Tsai still trails among female voters
Democratic Progressive Party (DPP) Chairperson Tsai Ing-wen (蔡英文) holds a slight lead over President Ma Ying-jeou (馬英九) in both a head-to-head scenario and a possible three-way race, according to the latest survey, and Tsai would likely win the January presidential election if economic issues were voters' top concern, analysts said in a forum yesterday.
A public opinion poll, conducted on Friday and Saturday by the Taiwan Brain Trust think tank, found that 35.9 percent of respondents would vote for Tsai, while 32.2 percent would vote for Ma and 13.7 percent would support People First Party Chairperson James Soong (宋楚瑜) in a three-way race.
Tsai also leads Ma with 40.1 percent versus 37.3 percent in a head-to-head battle, according to the survey.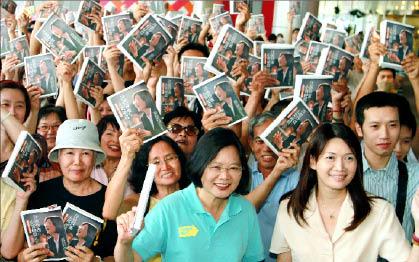 Democratic Progressive Party Chairperson Tsai Ing-wen, front center, attends a book signing for her new book at the Shin Kong Mitsukoshi department store in Greater Kaohsiung's Zuoying District yesterday.
Photo: Chang Chung-yi, Taipei Times
While Tsai's campaign has been hurt by a series of allegations about her running mate Su Jia-chyuan's (蘇嘉全) farmhouse in Pingtung County, it appeared she had more than made up for it during her 11-day campaign trip on the west coast, said Chen Jin-ji (陳錦稷), director of the Taiwan Brain Trust's poll center, adding that Ma's re-election campaign has suffered devastating blows because of his peace agreement proposal.
Tsai enjoys a large lead in southern Taiwan in a head-to-head battle, leading Ma by 17.9 percentage points in Yunlin, Chiayi and Greater Tainan, and 27.2 percentage points in Greater Kaohsiung and Pingtung, the survey showed.
She also holds the advantage among voters in the 20-39 age group, with a 15.4 point lead in the 20-29 age bracket, and leads by 7.6 points in the 30-39 bracket.
Despite Tsai trailing among female voters by 3.6 percentage points, the poll result is the best ever performance for any DPP presidential candidate, Taiwan Brain Trust chief executive Lo Chih-cheng (羅致政) said.
Economic voting behavior was one of the most crucial reasons contributing to the DPP's landslide loss in the 2008 presidential election, as financially challenged voters tend to favor a change in government, said Kenneth Lin (林向愷), an economics professor at National Taiwan University.
If that theory applies in the upcoming election, Lin said, the same things could happen again because most of the respondents were not happy with the economic performance of the Ma administration and said they were pessimistic about Taiwan's economic prospects.
The same survey found that more than half of the respondents are unhappy with Ma's -performance on fighting the increasing wealth gap, unemployment and commodity prices, with 57.1 percent saying they were not satisfied with Ma's economic performance and 56.9 percent saying Ma favored big business.
More than 70 percent of respondents described the nation's unemployment situation as "serious" or "very serious" and 53.5 percent are concerned about losing jobs or being forced to take unpaid leave within the next six months.
"Countries around the world are suffering from economic downturns and turbulence. However, what concerns me the most is that, unlike other countries, expectations for the future have been lacking among Taiwanese," Taiwan Brain Trust founder and former presidential adviser Koo Kwang-ming (辜寬敏) said.
That is why a regime change seems inevitable, he said, especially after Soong's entry into the presidential election.
"From what I've seen, Ma has had no hope of being re-elected since Soong made his bid official," Koo said.
The poll collected 1,071 samples with a 3 percent margin of error.
Comments will be moderated. Keep comments relevant to the article. Remarks containing abusive and obscene language, personal attacks of any kind or promotion will be removed and the user banned. Final decision will be at the discretion of the Taipei Times.