Tsai hails Giant, 'local' economies
PEDAL POWER: The DPP presidential candidate sang the praises of the domestic bike maker and its founder, King Liu, who she said had vision and perseverance
Democratic Progressive Party (DPP) Chairperson Tsai Ing-wen (蔡英文) yesterday lauded Giant Bicycle as a model for Taiwanese businesses and touted the development of "local economies" as a crucial factor in turning the economy around.
Competitive, successful and also able to collaborate with rivals, Giant — the world's largest bicycle manufacturer, an original equipment manufacturer and an original brand manufacturer — could serve as the best example for Taiwanese businesses, Tsai said after a visit to the company in Dajia (大甲), Greater Taichung.
Tsai praised the perseverance and vision of King Liu (劉金標), who founded the company in 1972 and saved it from bankruptcy by transforming it into a global brand, and his decision to manufacture high-end products and leave cheaper products to his Chinese competitors.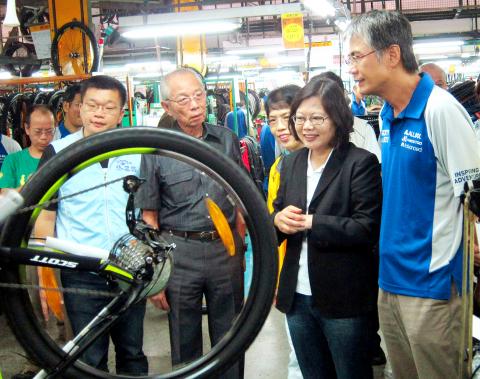 Democratic Progressive Party Chairperson Tsai Ing-wen, second right, and Giant Bicycle chairman King Liu, second left, look at a bicycle at a Giant factory in Greater Taichung yesterday, on the ninth day of Tsai's trip along Provincial Highway No. 1 to promote her presidential election campaign.
Photo: CNA
Successful entrepreneurs, such as Liu and late Apple founder Steve Jobs, create or transform markets by changing people's values and emotions, said Tsai, who is in the middle of her 11-day campaign trip along the west coast.
One of Giant's successes, Liu told Tsai in a briefing, is that it manages to develop its own brand and also manufacture bicycle components for its competitors.
Drawing an analogy between Liu's business operation model and Taiwan's political scene, Tsai said the major political parties should also be able to compete and collaborate at the same time, which was why she had initiated the formulation of a "Taiwan consensus."
However, Tsai said that not every Taiwanese company can be as successful or globalized because most private companies are small and medium-sized enterprises.
Tsai repeated her call from her presidential platform for a development of "local economies" based on local characteristics, produce and craftsmanship.
Speaking in Tongsiao (通霄), Miaoli County, Tsai said it was imperative to revive the wood sculpture industry and make it once again the pride and economic heart of the town.
She has highlighted the same things on previous campaign stops.
In Kanding Township (崁頂), Pingtung County, she lauded the success of a sesame oil -manufacturing corporation that has been passed down five generations. The 130-year-old company controls 70 percent of the sesame oil market in Taiwan and is now selling its products in Japan and the US.
In Pingtung County's Chaozhou (潮州), Tsai talked about developing the town's rich culture of traditional art, including puppetry, shadow puppetry and Taiwanese opera, into an industry that would eventually boost its economy.
Along with the "New Agriculture Movement," which encourages young people to return to their hometowns and work in the agricultural sector, Taiwan could develop many niche industries that would eventually benefit the domestic market and create jobs, as long as energy is devoted to developing local economies, Tsai said.
However, competitiveness is crucial at the end of the day, she said.
Citing the example of Giant, Tsai said a competitive business could withstand the impact of free-trade agreements (FTA), such as the one recently signed between South Korea and the US.
In reference to the signing of FTAs with other countries, Tsai said that Taiwan could not afford to depend on Beijing's "goodwill."
"If the possibility of signing FTAs with certain countries is slim in the short term, we should try to approach the issue using bloc-building measures, which is exactly what the US and the EU had proposed," she said.
Comments will be moderated. Keep comments relevant to the article. Remarks containing abusive and obscene language, personal attacks of any kind or promotion will be removed and the user banned. Final decision will be at the discretion of the Taipei Times.