INTERVIEW: Shih Ming-teh calls for coalition government
Shih Ming-teh (施明德), a former Democratic Progressive Party (DPP) chairman who has since severed ties with the party, said the public has the right to know ahead of January's presidential election whether President Ma Ying-jeou (馬英九), who is seeking re-election, plans to undertake political negotiations with China if elected to a second term in office.
Shih made the remarks in an interview with the Chinese-language Liberty Times (the Taipei Times' sister paper) on Tuesday.
In the interview, Shih questioned Ma's policy of "no unification, no independence and no armed conflict," saying that Ma had never said where he got that idea from.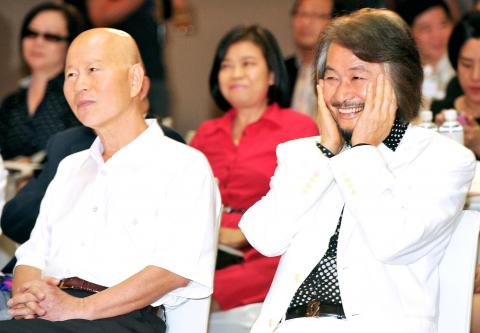 Former Democratic Progressive Party chairmen Hsu Hsin-liang, left, and Shih Ming-teh, sit next to each other at the launch of Shih's new book in Taipei on Friday.
Photo: Chien Jung-fong, Taipei Times
According to Shih, the concept was brought up in 1998 by Kenneth Lieberthal, who expressed the hope that Taiwan and China would agree to sign an "interim agreement" that stated both sides would agree to unify in five decades, at which time Taiwan would declare itself part of China.
While saying he agreed with Lieberthal's view that conflicts should be resolved through negotiation, Shih said such negotiation needed to be conducted as equals and without preconditions, whereas Lierberthal's proposition came with both preconditions and a specific goal.
Shih said he had three doubts concerning Ma's policy of "no unification, no independence and no armed conflict."
First, because Ma does not endorse "unification" or "independence," "then is the Republic of China (ROC) an independent and sovereign country? What is Taiwan?"
Saying that no country in the world has a "past" and "future," but no "present," Shih said that blurring the national status of the ROC or Taiwan is extremely detrimental to the ROC.
"Ma should loudly declare to the People's Republic of China (PRC): 'Yes or No.' And not just whisper it to Taiwanese when an election comes up," Shih said.
Shih said it would be preferable if the "no unification" and "no armed conflict" promises were made by the PRC to Taiwan and the world.
"What right does Ma have to make these two guarantees for the Chinese government? Are the guarantees valid? Can the people of Taiwan believe in them? Is the promise of 'no independence' based on Ma's own initiative and does it involve abandoning the ROC or Taiwan's right of sovereign independence prior to negotiations?" Shih asked.
"If that is the price paid for the cross-strait Economic Cooperation Framework Agreement (ECFA), then it is an act tantamount to treason, and not something beneficial to Taiwanese," Shih added.
Shih said his second doubt stemmed from Ma's apparent reluctance to quote Lieberthal as the source of his "three noes" policy because he has used them so many times. Answering his own question, Shih said that the reason for Ma's reticence was that Lieberthal had wanted Taiwan to become part of China.
Ma would rather implement Lieberthal's pro-China position in a more tactical way, as evidenced by the government's declaration in February that from now on official documents should not refer to China as "China" but rather "Mainland China," Shih said, adding that Ma even used the phrase "prior to unification" from the ROC Constitution to support his stance.
"This shows that Ma entertains the thought of 'ultimate unification' even before negotiations," Shih said.
This claim would not only ignore the fact that "Taiwan is a sovereign independent country," it would also trample on "the independent sovereignty of the ROC," Shih said.
Ma has departed radically from the blueprint for cross-strait relations that has existed since 1949 and was maintained through the administrations of former presidents Chiang Kai-shek (蔣介石) and Chiang Ching-kuo (蔣經國), Shih said.
The third doubt Shih said he has about Ma's "three noes" policy is that he suspects "under-the-table political deals" were made during the ECFA talks
Shih said that when the ECFA law was sent to the legislature, he called for the removal of Article 16 to prevent the Chinese Communist Party from coercing Taiwan through economic means, or to arbitrarily terminate the ECFA as revenge if political negotiations went sour.
According to Shih, Ma instructed Minister of Economic Affairs Shih Yen-hsian (施顏祥) to tell him that "China would not do so."
"When did Taiwan, which has steadfastly opposed, sought to eliminate and fought wars against the Chinese Communists under the two Chiangs, become a place that is pro-China and believes everything Beijing says unconditionally?" Shih asked.
Saying that director of China's Taiwan Affairs Office Wang Yi (王毅) and Association for Relations Across the Taiwan Strait chairman Chen Yunlin (陳雲林) have both said there could be no ECFA without the "one China" principle and that the Ma administration has never refuted that assertion, Shih asked whether it was part of Ma's plan to abandon the ROC's sovereign independency for the ECFA.
"This is the reason why I want to ask Ma if there were any under-the-table dealings," Shih Ming-teh added.
According to Shih Ming-teh, pan-blue politicians usually appease China by opposing Taiwan ese independence, "but in so doing, wouldn't the PRC automatically be the sole internationally recognized representative of China? Without sovereign independence, the ROC has no future," he said
Any cross-strait peace obtained under such conditions would be just the quiet of the grave, he added.
Ma has made more changes to cross-strait policy and the sovereign status of Taiwan than any other individual since 1949, Shih Ming-teh said, adding that while everyone wants peace and embraces economical development, "would such things be built on the destruction of the ROC?"
For the president to be elected on Jan. 14, Shih suggested that priority should be given to national unity.
Although Taiwan has had seven presidents, there has yet to be a "national president" as opposed to a KMT president, or a Democratic Progressive Party (DPP) president, Shih said, adding that Ma was as "blue" as they get, but former minister of foreign affairs Frederick Chien (錢復) thought that still Ma wasn't "blue" enough.
The second suggestion for the next president is to form a government of national unity, that would include members of the KMT, DPP and other social elites, he said.
Lastly, Shih Ming-teh emphasized that it was important for "[the public] to choose a president who would lead Taiwan toward peace and a new era, an era that would be not for the DPP or the KMT, but for all Taiwanese
Translated by Jake Chung, Staff Writer
Comments will be moderated. Keep comments relevant to the article. Remarks containing abusive and obscene language, personal attacks of any kind or promotion will be removed and the user banned. Final decision will be at the discretion of the Taipei Times.