Taiwanese win gold at Biology Olympiad
Taiwanese high school students won four gold medals at the 22nd International Biology Olympiad (IBO) in Taipei on Saturday, with one of the gold medalists putting up the second-highest score of the competition.
Chang Je-rui (張哲睿), Lu Hsiao-hung (陸曉虹), Lin Yu-min (林祐民) and Tung Yu-hung (童宇鴻) all won gold medals, given to the top 10 percent of the Olympiad's 229 participants from 58 countries.
Chang stood out, however, posting the second-highest score behind Rebecca Doris Shi from the US, and after the competition, he attributed his performance to the jury, his family and his classmates and teachers at Taipei Municipal Jianguo High School.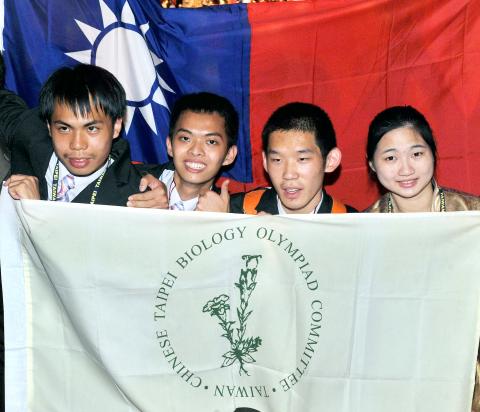 From left to right, Tung Yu-hung, Lin Yu-min, Chang Je-rui and Lu Hsiao-hung won gold medals at International Biology Olympiad in Taipei on Saturday.
Photo: CNA
Chang won a gold medal at the International Junior Science Olympiad in 2009.
National Science Council Minister Lee Lou-chuang (李羅權) urged the students to make friends with one another and build a "global alliance" that would facilitate their future career development.
"A scientific career can be a long and solitary one, but at the same time, it is full of surprises and joy," he said. "I would like to emphasize that collaborative efforts often lead to major leaps in science."
Poonipope Kasemsap, the chairperson of IBO Coordinators, highlighted the importance of networking among biologists. Science has taught humans that those who learn to collaborate will prevail, he said.
Recapping the week-long competition that featured both practical and theoretical tests, Kasemsap praised the students' courage and joked that, contrary to the jury's expectations, there were no -"casualties" or people fainting during the experiments on frog's nerves.
The event was being hosted in Taiwan for the first time and was co-sponsored by the National Science Council. Next year's competition will be held in Singapore from July 15 to July 22.
Comments will be moderated. Keep comments relevant to the article. Remarks containing abusive and obscene language, personal attacks of any kind or promotion will be removed and the user banned. Final decision will be at the discretion of the Taipei Times.