DPP finalizes list of nominees for at-large positions
The Democratic Progressive Party (DPP) yesterday finalized its 34-member legislators-at-large list for the legislative elections in January, filling the No. 3 spot after the original nominee withdrew.
The DPP reaffirmed that the list would remain unchanged, as it hoped to put an end the criticisms that have surrounded the nominations.
The party nominated Wu Yi-chen (吳宜臻), a lawyer of Hakka descent and an advocate for women's rights, to fill the spot vacated by Cheng Su-hua (鄭素華), who withdrew her nomination because of criticism related to her previous violation of an election law.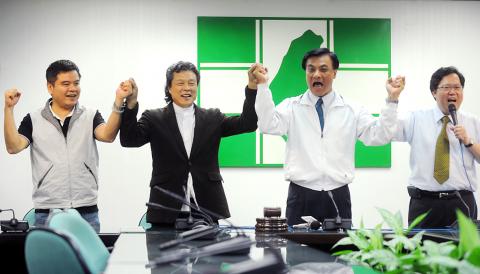 Democratic Progressive Party (DPP) Central Standing Committee members, including DPP Secretary-General Su Jia-chyuan, second right, announce that singer Yang Lieh, second left, will be the party's candidate for Taipei City's first electoral constituency at a press conference yesterday.
Photo: Wang Yi-sung, Taipei Times
"The meeting reaffirmed that this will be the final version of the list and it will remain unchanged," DPP spokesperson Cheng Wen-tsang (鄭文燦) said after the DPP Central Executive Committee meeting, adding that all party members and supporters were encouraged to "look forward from now on — with exactly six months left before the Jan. 14 elections."
The last thing the DPP and its supporters want to see are the presidential and legislative elections lost because of "internal division and a lack of solidarity," Cheng said.
Since the list was released on June 29, some academics, supporters and DPP members have criticized the nominations, saying that they failed to appropriately represent the disadvantaged, underprivileged classes and academia. The nominations also caused party infighting because several senior politicians and representatives of nongovernmental organizations were omitted.
To minimize any damage the internal strife might have caused, the DPP also announced that it had launched two investigations.
The party's Arbitration Committee will reviews a case brought up by DPP Legislator Wang Sing-nan (王幸男), who has accused party caucus whip Ker Chien-ming (柯建銘) of misconduct and asked him to withdraw from the legislators-at-large race, DPP Secretary-General Su Jia-chyuan (蘇嘉全) said.
Su added he would also convene a three-member special panel to investigate on allegation made by Tsai You-chuan (蔡有全), who has accused a number of unnamed legislator-at-large nominees based in New Taipei City (新北市) of having extramarital relationships.
Hung Chih-kun (洪智坤), a member of the DPP Central Executive Committee, who publicly voiced his displeasure over the nomination list, appeared to have toned down his words after the meeting, telling the media that he had volunteered to run for the party in one of the nine districts deemed "difficult."
"If I were not able to represent the DPP as a legislator-at-large, I would rather throw myself into the election," Hung said without specifying for which constituency he plans to contest.
A total of 73 single-member constituencies will be up for grabs on Jan. 14.
Meanwhile, the DPP announced that it nominated singer-turned-politician Yang Lieh (楊烈) to run in Taipei City's first electoral district. Yang, once a popular singer, will run against the Chinese Nationalist Party's (KMT) Ting Shou-chung (丁守中) for the Beitou (北投)-Tianmu (天母) legislative seat.
The DPP said its national party congress, which will serve as a rally for the presidential ticket is tentatively scheduled for Aug. 28.
Comments will be moderated. Keep comments relevant to the article. Remarks containing abusive and obscene language, personal attacks of any kind or promotion will be removed and the user banned. Final decision will be at the discretion of the Taipei Times.