Malaysian students rally for free and fair elections
Hundreds of Malaysian students in Taiwan yesterday rallied in Liberty Square in Taipei yesterday — as Malaysian students in 25 cities around the world did — to demand free and clean elections and to protest the arrests of hundreds of pro--democracy demonstrators in Malaysia.
"A lot of Malaysians are not happy about politics in Malaysia, but they are not talking, because they think they would be better off remaining silent, but silence would not get us anywhere," Cheng Xin Rou (鄭欣柔), a Malaysian student at National Taiwan University's (NTU) Graduate Institute of Building and Planning, told the crowd in yellow, who reacted to her words with loud cheers and applause.
"We want fair and clean elections for a better democracy," she said. "I'm not saying this because I am in Taiwan, I would have said the same thing and joined the protesters in Kuala Lumpur if I were in Malaysia at this moment. I will eventually go back to Malaysia, and I will take part in social movements there."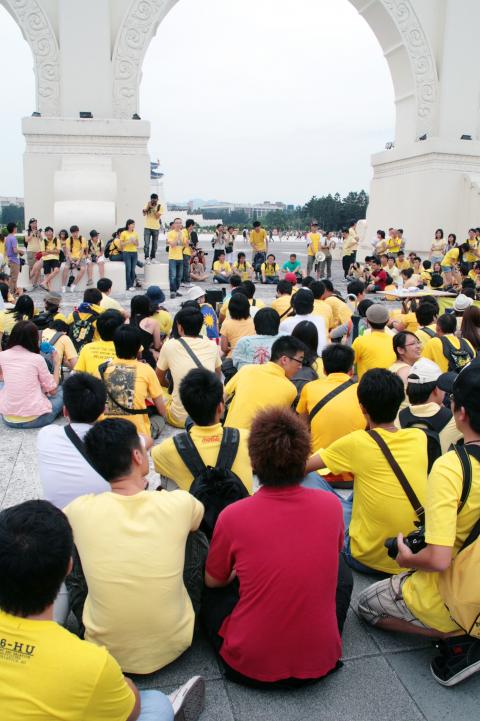 Hundreds of Malaysian students attending universities across Taiwan rallied at Liberty Square in Taipei yesterday as part of a globally coordinated campaign to call for fair and clean elections in Malaysia, and the release of demonstrators arrested there.
Photo: Loa Iok-sin, Taipei Times
Cheng and the Malaysian students at the rally were upset because they believe elections are seriously manipulated by the ruling party — which has been in power since the independence of Malaysia in 1963 — and because of the arrests of hundreds of members and supporters of the Bersih movement that calls for clean elections.
All the demonstrators and their Taiwanese supporters wore yellow and brought yellow umbrellas or even bananas, because it was the color chosen by the Bersih movement in Malaysia when they printed their own T-shirts.
"The Malaysian government is arresting supporters of the Bersih movement; I wonder if the word bersih [Malay for 'clean'] would be erased from the dictionary, and we would only be able to find the words 'dirty' and 'not so dirty' in the dictionary?" said Chan Kuang Ming (陳洸銘), a Malaysian student from National Chi Nan University and a co--organizer of the rally. "Does the government think that the people are so ignorant that we don't know what tricks they are playing when the power goes off in the middle of the vote-counting, and when they sent in boxes of [stamped] ballots into poll stations?"
He said the protesters were not mobilized by the opposition, "we are Malaysian students who care about our own country, and coordinated among ourselves to organize this rally."
Speaking about election irregularities, another co-organizer of the rally, Pauline Tan (陳俐杏), a student from NTU's Department of Foreign Languages, said the government was using its power to create an election system that is favorable to them.
"For instance, 48 percent of all registered voters are 'phantom voters,' the media outlets are in the control of the government and the campaign period has been reduced from 48 days decades ago to eight days now," Tan said.
Chang Teck Peng (莊迪澎), the founding editor of an independent online news outlet, Merdeka Review, said it was about time for Malaysia to change, because the ruling party has been in power since the country's independence.
"Only the rotation of power could bring better life to the people," he said.
Commenting on recent arrests of pro-democracy activists in Malaysia, Chang said it was actually a good sign.
"The government is making more efforts to crack down on the pro-democracy movement because they are in fear, they know well that public opinion is not on their side," he said.
In addition to the Malaysians, representatives from several Taiwanese non-governmental organizations, including the Taiwan Association for Human Rights and Amnesty International (AI) Taiwan, also showed up in support.
"Democracy doesn't just fall down from the sky, it's the power of the people that can make a change," AI Taiwan deputy secretary-general Yang Tsung-li (楊宗澧) said. "That's how Taiwanese earned our democracy, and that's what the people of Tunisia and Egypt did too. We Taiwanese will always stand with you Malaysians on your struggle for democracy."
Comments will be moderated. Keep comments relevant to the article. Remarks containing abusive and obscene language, personal attacks of any kind or promotion will be removed and the user banned. Final decision will be at the discretion of the Taipei Times.