Jiji line to reopen on Saturday, says railway operator
The Jiji Line (集集線), one of the nation's historical railway routes, is scheduled to reopen on Saturday after the service was suspended more than a year ago, the Taiwan Railway Administration said yesterday.
The railway operator also said it would allow free trips on the line for nine days. Those interested in taking rides on the Jiji line must first obtain free one-way trip passes, which are available at the Taichung, Changhua, Yuanlin (員林), Tianjhung (田中) and Ershuei (二水) train stations.
Return tickets are only available at the Jiji and Checheng (車埕) train stations.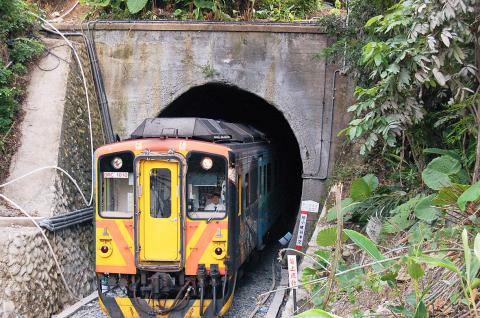 A train emerges from a tunnel during a test run on the Jiji Line between Changhua and Nantou counties yesterday.
Photo: Tseng Hung-ju, Taipei Times
Built during the Japanese colonial era, the 29.7km line was used to transport construction materials needed to build the power plant at Sun Moon Lake. The line runs from Ershuei Station in Changhua County to Checheng Station in Nantou County.
Among the seven tunnels along the route, six have existed for about 80 years. A relatively new tunnel on the line has also been around for 50 years.
The 921 Earthquake in 1999 caused severe damage to the tunnels. The railway operator decided to suspend operations between Longquan (龍泉) and Checheng in March to reinforce them and expand the width of the railway line. During renovation, trains could only operate between Ershuei and Longquan stations.
Taiwan Railway Administration Director-General Frank Fan (范植谷) said that only diesel rail cars could operate on the line in the past. Other types of cars can run on the line now that the reinforcement project is complete.
The railway operator estimates that the project will help raise the capacity of the Jiji Line from 300,000 to 500,000 passengers per year, adding that the nine days of free rides could attract 90,000 passengers.
The railway operator said it had planned to arrange a total of 26 trips per day between Ershuei and Checheng.
Comments will be moderated. Keep comments relevant to the article. Remarks containing abusive and obscene language, personal attacks of any kind or promotion will be removed and the user banned. Final decision will be at the discretion of the Taipei Times.