Taiwanese pair 'plank' to the world
ART SPEAKS: The duo say they do not try poses that could be harmful or damage public property and try to promote social causes as well as tourism to Taiwan
Lying face flat on the ground may not be the world's most glamorous photo pose, but two Taiwanese "planking" women have made a name for themselves on the Internet — and hope to use the craze to spread positive social messages.
Eschewing the dangerous behavior that killed one man in Australia and left another seriously injured, Karren and Jinyu practice a safer version of the fast-growing global fad that involves lying face down stiff in often bizarre places for a photo op.
In fact, they use it to promote causes, such as planking with stray dogs to draw attention to the plight of the animals, or planking in famous tourist spots to promote travel.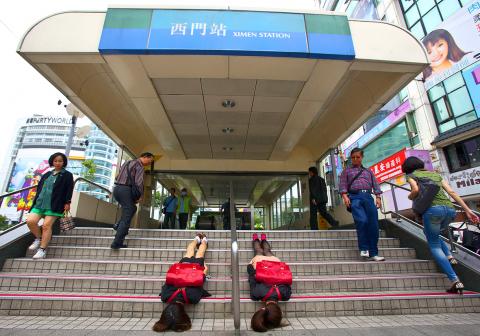 Pujie Girls Karren, left, and Jinyu pose outside Taipei's Ximen MRT station. The pair are Taiwan's most famous plankers.
Photo: Nicky Loh, Reuters
"It's not really that difficult to plank and I really don't mind getting dirty," said the petite Karren, who wore a Japanese manga-inspired outfit and a red backpack, in an interview, her partner nodding beside her.
Calling themselves the Pujie Girls, which literally translates as "falling on the street" in Mandarin, the name is also a pun on the Cantonese curse puk gai, which means "may you drop dead."
The pair are Taiwan's most well-known plankers, with almost 100,000 fans following them on Facebook. They are so popular that China's version of Facebook, Weibo, has invited them as VIPs on the tightly controlled social network to promote their activities across the Taiwan Strait.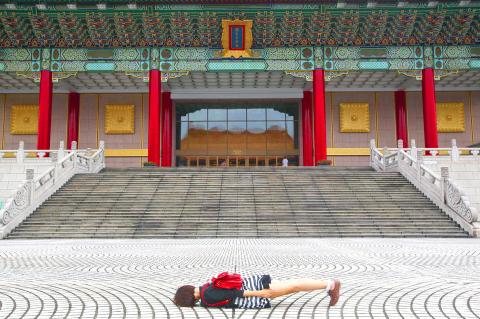 Karren, one of the Pujie Girls, poses for a photograph while demonstrating planking at the National Theater in Taipei yesterday.
Photo: Nicky Loh, Reuters
During a recent planking session, young people walked up to the pair to ask if they could take photos of them and with them, while older passersby gave them strange looks. Planking-savvy Hong Kong tourists shouted "puk gai, puk gai."
Karren, 28, who is a full-time photographer, and Jinyu, 25, a university student studying English, have also recently appeared on various television talk shows to demonstrate how planking is done accurately and safely.
By posting their planking photographs taken at various tourist spots in Taipei, the two women are aiming to promote Taiwan's tourism not just to China, but to the world.
"At first we did it for fun, but then we realized that the photographs were very visual. So they could also be very effective way to send out good messages," Jinyu said.
The two like to focus on positive messages.
"The three golden rules for contribution are as follows: We don't disturb people, we don't do things to harm ourselves and we don't damage public property," they repeatedly say on their Facebook page.
Australian plankers have gotten in trouble for planking on moving cars, smokestacks and industrial machinery, but the Taiwanese pair's more moderate stance hasn't harmed their popularity at all.
"I love it! This is art!" one fan wrote.
Comments will be moderated. Keep comments relevant to the article. Remarks containing abusive and obscene language, personal attacks of any kind or promotion will be removed and the user banned. Final decision will be at the discretion of the Taipei Times.