Office workers' lives 'deprived'
OUT OF BALANCE: Nearly 70 percent of office workers said that they do not receive overtime pay, with 6 percent saying they are afraid to apply for it, even if it is offered
Ahead of Workers' Day yesterday, a new poll by an online job bank shed light on the poor working conditions that many Taiwanese office workers face.
In poll results released on Saturday, 77.4 percent of office workers in Taiwan said they felt like they were living a "deprived" life characterized by low income, long hours of work and a lack of sleep.
Conducted by online job bank Yes123, the poll results also show that 63.9 percent of office workers work an average of 10.4 hours a day, with 21.4 percent working more than 11 hours per day, far exceeding the maximum hours allowed by law in Taiwan.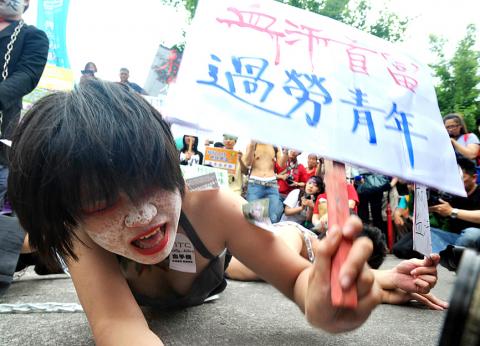 A demonstrator crawls on the ground during a skit to highlight being overworked and underpaid during the annual Workers' Day rally in Taipei yesterday.
Photo: PATRICK LIN, AFP
The law stipulates an employee should not regularly work more than eight hours a day or 84 hours per two weeks.
Almost 56 percent of office workers said they spent too much time at work, even though as much as 31.8 percent earn less than NT$22,115 per month, the minimum wage for Taiwan recommended by the International Labor Organization based on the country's cost of living and social welfare schemes.
Yes123 deputy manager Chiu Wen-jen (邱文仁) said the poll results showed that office workers were not getting higher pay for working longer hours, but were instead living "deprived" lives.
In addition, close to 70 percent of office staff said they were not being paid for overtime. Among this group, 47.2 percent work in companies that do not give overtime pay or compensatory leave, 14 percent are entitled only to compensatory leave, and 6 percent are afraid to apply for overtime pay, even though it is offered by their companies.
Long working hours have also affected the sleep of workers. The poll showed office workers, on average, sleep only 6.2 hours per night, less than the seven to eight hours of sleep recommended for adults.
A total of 68 percent of office employees said they are not getting enough sleep, with 37.4 percent considering themselves in poor health.
As a result, some employees said they are prone to fatigue (75.8 percent), absent-mindedness (56.7 percent) and an inability to be creative (19.6 percent).
About 63 percent of office employees said they actually concentrate on work for less than seven hours a day. Based on this statistic, Chiu said companies could achieve a "win-win" situation by thinking of ways to boost employee productivity while limiting their hours of work.
Taiwan's working hours are the fifth-longest in the world, behind South Korea, Mexico, Hong Kong and India, a 2007 report published by the Lausanne-based International Institute for Management Development showed.
The Yes123 online poll, conducted between April 11 and April 17, collected 2,140 valid samples and has a confidence level of 95 percent and a margin of error of 2.05 percentage points.
Comments will be moderated. Keep comments relevant to the article. Remarks containing abusive and obscene language, personal attacks of any kind or promotion will be removed and the user banned. Final decision will be at the discretion of the Taipei Times.