Shih Ming-teh pans the DPP front-runners
'NOT LEADERSHIP MATERIAL': The democracy activist and former DPP chairman endorsed Hsu and demanded answers concerning Tsai Ing-wen's sexual orientation
In remarks certain to rankle with the Democratic Progressive Party (DPP), democracy activist and former party chairman Shih Ming-teh (施明德) yesterday accused the party's two frontrunners for presidential candidate of "lacking leadership material."
In a meeting with Hsu Hsin-liang (許信良) at Shih's residence in New Taipei City (新北市), Shih endorsed Hsu, who is trailing heavily in the primaries. Shih and Hsu were key players 30 years ago in Taiwan's fledging democracy movement that eventually led to the creation of the DPP.
"Hsu is far-sighted and the ideal candidate for president," said Shih, who was DPP chairman between 1994 and 1996.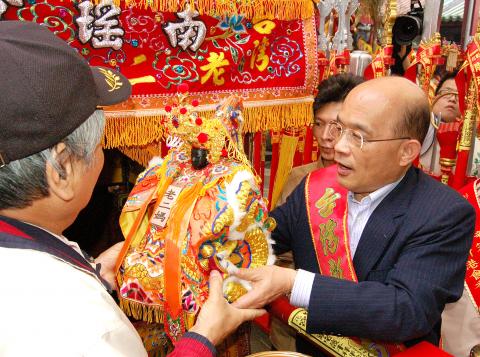 Democratic Progressive Party presidential hopeful Su Tseng-chang, right, holds a statue of the goddess Matsu during a festival at the Nanyao Temple in Changhua City yesterday.
Photo: Tang Shih-ming, Taipei Times
Hsu, who headed the party in 1993, raised his profile with remarks in support of closer cross-strait ties during the first two DPP policy sessions with Tsai Ing-wen (蔡英文) and Su Tseng-chang (蘇貞昌), the top contenders for the party nomination.
"Hsu knows the problems Taiwan is facing today," Shih said. "He has forced Tsai and Su to respond to tough questions on cross-strait issues and the Economic Cooperation Framework Agreement."
The two were involved in the street protests that led to the Kaohsiung Incident in 1979, recognized as a democratic milestone for the nation. Shih served a 10-year sentence while Hsu fled abroad, where he continued to publish pro-Taiwan articles.
However, the pair have a turbulent history with the party, giving up their membership during Chen Shui-bian's (陳水扁) administration. Shih later led hundreds of thousands in street protests in Taipei against alleged corruption by Chen.
Shih said both Tsai and Su did not play any key roles in Taiwan's democracy movement in the 1970s and 1980s. Not a "single one" of the key democratic trailblazers, such as himself, later assumed high-level government roles, he said.
"I know that one day, perhaps in a 100 years, history will remember us over people like presidents Ma Ying-jeou (馬英九), Chen Shui-bian and Lee Teng-hui (李登輝)," he said.
"After watching [Wednesday's] debate ... I feel that while Su might be a good minister or mayor, I don't think he has what it takes to be president," Shih said.
Responding to the comments, Lee Hou-ching (李厚慶), a campaign spokesperson for Su — who was a lawyer for the defendants in the Kaohsiung Incident — said Su "expressed his gratitude for the advice," but refused to elaborate.
Shih said Tsai was still "too unknown and unfamiliar. She's only been in the DPP for seven years."
At a separate setting later in the day, Shih called on Tsai, who is single, to clarify her sexual orientation, saying voters deserved "a clear answer" before voting her.
Tsai's campaign office was unavailable for comment.
Shih and Hsu denied that they were aligned with the Chinese Nationalist Party (KMT).
Comments will be moderated. Keep comments relevant to the article. Remarks containing abusive and obscene language, personal attacks of any kind or promotion will be removed and the user banned. Final decision will be at the discretion of the Taipei Times.